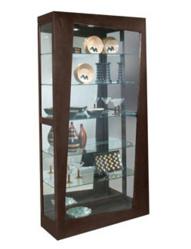 We have developed a cutting-edge website that offers our customers a vast selection of high quality curio cabinets
Golden, CO (PRWEB) May 06, 2011
Most families have a collection of treasured keepsakes that they do not want to get rid of. Whether these pieces are priceless family heirlooms, souvenirs from travel or prized collectibles, many people do not have a suitable way to display these items and they end up in a box in the garage. CurioCabinetSpot.com offers an excellent solution by offering a wide selection of curio cabinets, china cabinets and other furniture designed to display treasured keepsakes in their best light. Many of these products come from leading manufacturers at a reasonable price that includes free shipping.
"We have developed a cutting-edge website that offers our customers a vast selection of high quality curio cabinets", said Kristen Linden, Web Store Manager for CurioCabinetSpot.com. Linden went on to say, "Whether a person's tastes tend toward a traditional style china cabinet with elegant crown molding, or contemporary styled console curio cabinets with sleek lines and lacquer finish, we have cabinets that complement many different tastes and styles."
CurioCabinetSpot.com features a menu system that is intuitive and easy to navigate, so customers can quickly find the curio cabinet that they are looking for. Shoppers can browse cabinets by Brand, Type, Traditional or Contemporary Styles and even by Finish. The site even offers a Sales page for customers to take advantage of limited time offers to help them save even more money. Many of the curio and china cabinets available come from leading manufacturers like Howard Miller, Pulaski furniture and Parker House, to name a few. Along with free shipping, all curio and china cabinets include free White Glove Delivery, which means that your new cabinet will be delivered, assembled and all of the empty packaging will be cleaned up.
No longer will treasured family heirlooms gather dust in a closet or storage unit. Thanks to the many storage solutions offered by CurioCabinetSpot.com, these important items can enjoy a place of prominence in the living room, den or other places in the home where families and friends can gather and enjoy them.
About CurioCabinetSpot.com - CurioCabinetSpot.com is a division of InteriorMark, LLC, who is the market leading retailer of curio cabinets, china hutches, console curio cabinets and other specialty display furniture. The company offers a wide range of products and services designed to enhance and decorate a living room space, dining room or other family room. InteriorMark is a member of the National Home Furnishing Association and Western Home Furnishings Association, and is an A-rated member of the Better Business Bureau.
# # #