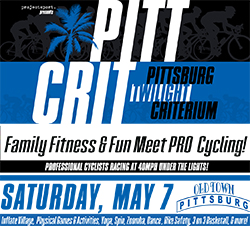 We always aim to put on a big show, bringing in DJs and professional race announcers, European-style podium presentations and little perks...We aim to make riders feel like the pro athletes they are.
Pittsburg/San Francisco, CA (PRWEB) May 05, 2011
Race directors for the inaugural Pittsburg Twilight Criterium (http://www.pittcrit.com) unveiled today their final confirmed field of riders for the May 7 event, showcasing some of the top cyclists in the sport, including members of the 2012 Olympic training team and several past National Champions.
Project Sport, organizers of the "Pitt Crit," are crediting a minimum $12,000 prize list, including $10,000 in cash winnings being split across the men's and women's pros, as a major incentive drawing such competitive racers. The event will offer the largest purse of any women's race in Northern California.
The race becomes Project Sport's fourth cycling event in the area, adding to the annual San Rafael Twilight Criterium, and the one-time San Francisco Twilight Criterium and Sacramento Grand Prix races. The company also produces the US Half Marathon series in San Francisco. Organizers believe they are benefiting as well from the reputation of their other events.
"We always aim to put on a big show," said race director and Project Sport President Ryan Dawkins. "We bring in DJs and professional race announcers, and add European-style podium presentations. We add little perks like free coffee, dollar beers and riders' names on their race numbers. We aim to make them feel like the elite professional athletes that they are."
Competitors in Saturdays contest include:

"Fast" Freddie Rodriquez, one of the all-time leading U.S. cyclists, with three USPRO championships and a Giro d'Italia stage win.
Coryn Rivera, the most decorated junior cyclist in America, with 32 U.S. National Championships, and a member of the Peanut Butter & Co TWENTY12 Olympic development team.
Justin Williams, an Under-23 Criterium National Championship winner and former member of Lance Armstrong's Trek-LIVESTRONG development team, now under the wing of four-time U.S. National Champion Rahsaan Bahati at Major Motion Cycling.
Olivia Dillon, the Irish national Road Race Champion and a three-time Irish National Time Trial Champion; also a member of the PB&Co TWENTY12 team.
Roman Kilun, a team sprint winner of the 2010 U.S. National Track Championships, individual runner up in the 2009 U.S. National Track Championships, and winner of the Sprint Competition in the 2008 Tour de Nez.
The Pittsburg Twilight is being organized in partnership with the Pittsburg Arts and Community Foundation (http://www.pittsburgfoundation.org), aiming to draw on the excitement of pro cycling and the urban pageantry of the criterium format to create a showcase attraction in the city's rapidly growing Old Town neighborhood.
The event will present six professional & elite amateur races ranging from the Elite 4 and Masters categories to Women's and Men's Pro. In addition to the main event races, the afternoon and evening will include fun, free events for families featuring a kid's bike race, a family fun walk, outdoor activities and FitFest 2011 - a family fitness, health and wellness festival.
"We've spent almost a year building this with Project Sport, and couldn't be more excited for what's about to come to Pittsburg," said Ali Endress, of the Pittsburg Arts and Community Foundation. "We watched their criterium races in both San Rafael and Sacramento, and saw what huge assets they were in those communities. They provide a great presentation to the fans, bring a ton excitement to the community, bring foot traffic to business districts, and send a valuable message of fitness and health."
"We're excited to be working with Pittsburg," said Dawkins. "Our riders love competing in Northern California – many of them live here – and Pittsburg is one of those communities that is tailor-made for hosting an event like this. Old Town is so vibrant. It will be great for the competitors and spectators alike."
To follow developments with the Pittsburg Twilight Criterium, fans and media should visit the Pitt Crit Facebook page at http://www.facebook.com/pittcrit.
###