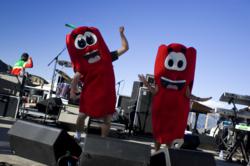 (PRWEB) May 06, 2011
Do you love chili, microbrew beer and great live music? Then the 8th Annual Snowmass Chili Pepper & Brew Fest is the place to be with tons of chili tastings, over 100 microbrew samplings along with a two-day music party.
The Snowmass Chili Pepper & Brew Fest will have over 100 varieties of microbrews ranging from a Ghost Face Killhah (brewed with six different types of chili peppers), Dirty Hippie Dark, Skinny Dip Pale Ale, Happy Camper IPA to a Black Butte Porter. There will be two brew sampling sessions for festival goers featuring 50 plus breweries and a European and exotic beer tasting tent.
Top microbreweries from all over the country are invited to compete for various honors in the Best Summer Ale Brew Fest 2011. Not a professional brewer? No worries. Home-brewers are encouraged to be part of the Homebrew Competition on Friday which features a professionally judged competition for participating brewers to showcase their seasonal summer brews while festival-goers savor the spirited results. The main events are the Seasonal Brews Samplings on Friday and the Grand Beer Tastings on Saturday creating high energy as brews flow freely while popular headliners rock the stage.
Chili is serious business to the chili cooks coming nationwide serving up their homemade chili and salsa ranging from mild, medium, to hot trying to win a spot in the International Chili Society's 2011 World Chili & Salsa Championship and competing for over $3,000 in prize money. Judged chili categories include the traditional chili red, chili Verde and salsa. All competition chili must be cooked on site within a three hour time limit and are judged on taste, how the flavors blend, consistency, aroma, color and of course…the bite.
Music headliners include the Tedeschi Trucks Band who perform on Saturday night at 7:30 p.m., along with Indie rock band Carbon Choir, who play at 5:00 p.m. On Friday night psychedelic band Boombox will take the stage at 5:30 p.m. opening for Grammy Award winning Jamaican reggae band Black Uhuru, who play at 8:30 p.m.
This year's fest will bring back the popular Champion Tasting Pass combining, chili and beer tasting, along with Skyy Vodka and Cabo Tequila tastings. Advanced ticket sales continue through Thursday, June 2 and start at $20. For more information on the Snowmass Chili Pepper & Brew Fest, go to http://www.snowmasschiliandbrew.com. For more information on lodging and ticket packages call 1800SNOWMASS or go to http://www.snowmasstourism.com.
###