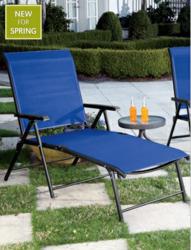 Canton, MA (PRWEB) May 05, 2011
Living XL, a division of Casual Male Retail Group, Inc. proudly introduces the latest innovative products to make outdoor activities more convenient and comfortable for plus-size men and women.
Sturdy, oversized chairs continue to be Living XL's most requested items and there are now more options for patio and portable seating than ever before:
Backyard Folding Chair and Chaise Lounger
Want to bring home the comfort and feel of the oversized lounge chairs that surround resort pools? Add the same luxury to your backyard with the matching folding chair and chaise lounger. Both are convenient and durable – easy to set up by the pool and crafted with lightweight, resilient aluminum tubing and weather-resistant textaline, vinyl mesh. With a 650-pound weight capacity, a generous seat width of 24" for the chair and 26 ½" for the lounger with five recliner positions, relaxation has never been easier or more comfortable.
Another convenient and dependable outdoor seating option is the Patio Rocking Chair
Made from durable resin, this chair will endure the elements without warping or rusting and resists scratches and stains. The quality dovetail construction makes for quick and easy assembly to get you on your way to enjoying an easy summer afternoon. The 600-pound weight capacity provides confidence in its stability. Offered in four different colors, this rocker will become a fixture on your porch or patio.
If you want to move easily from the backyard to a beach party, Living XL has you covered with the Extra-Wide Textaline Stripe Beach Chair
Crafted of lightweight aluminum tubing and weather-resistant vinyl mesh, this chair shares the same durable construction as stay-at-home patio furniture. Its 24" seat width and 18" height from the ground make accessibility a breeze and lets you settle in and relax. However, it weighs only 14 pounds to allow for easy transportation. Featuring a cup holder on one arm, a storage pocket on the other and a flip pillow headrest, this chair assures that comfort will always go where you go.
Summer means baseball and BBQ's and if you want a chair that will go nine innings strong or outlast the fire on the grill, Living XL's Portable Padded Quad Chairs have the comfort and construction to handle it all. Made with a heavy-duty 22mm tube frame, fully padded 600 denier polyester fabric and oversized shatter-proof nylon feet, stability and durability are at a premium. The built-in zippered cooler, cup holder and mesh side pocket add convenience and it is easily carried or stored in the tote bag with shoulder sling. Now available in 1,000 pound capacity and 500-pound capacity options, the Portable Padded Quad Chair gives you the freedom to be on the go and the confidence knowing it's built to last.
For more chairs, and unique products, visit http://www.livingXL.com
Living XL is dedicated to providing products for big and tall men and women that are specially and proportionally designed with certain needs, sizes and weight capacities in mind.
About LIVING XL and Casual Male Retail Group
Living XL is a division of Casual Male Retail Group, Inc. CMRG is the largest retailer of big and tall men's apparel with operations throughout the United States, Canada and Europe. Casual Male Retail Group, Inc. operates 465 Casual Male XL retail and outlet stores, over 20 Rochester Clothing stores, and direct to consumer businesses which include several catalogs and e-commerce sites. The Company is headquartered in Canton, Massachusetts, and its common stock is listed on the NASDAQ Global Market under the symbol "CMRG."
For Information, Contact:
Ric Della Bernarda
Sr. Vice President and Chief Marketing Officer
Casual Male Retail Group, Inc.
781.828.9300
###