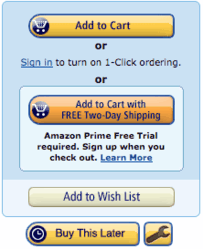 Buy Later is a perfect tool for tracking often out-of-stock items or just for watching for price drops. -- Adam Pash, Lifehacker.com
Fairfield, IA (PRWEB) May 06, 2011
Like something on Amazon.com that's too expensive or out of stock? Wasting time checking Amazon hoping the item is back in stock or the price has dropped? Give your F5 key a rest already. Buy Later is a new, free extension for Firefox and Chrome that seamlessly integrates with Amazon.
Here is how it works: When an item is out of stock or too expensive, Amazon users can simply click the orange 'Buy This Later' button on the Amazon product page. Buy Later will track the item and send the user an email when the price drops or the item comes back in stock.
Buy Later also provides the user with the current prices of all the items that the user is watching. Clicking on the tools icon next to the 'Buy This Later' button takes the user to a page where they can see their price data, stop tracking items, and change settings. There is also a handy link to the product page for each item.
Buy Later is great for watching for unannounced sales or getting first dibs on newly stocked items. Save money and time by shopping online with Buy Later. Best of all, it's free!
Buy Later is available for download at http://buylatr.com.
###