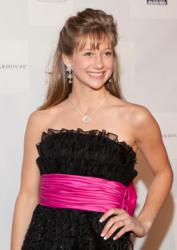 "This show will make travel fun, educational and adventurous."
Studio City, CA (PRWEB) May 06, 2011
Actress/Model Abigail Schrader's spirit of adventure is her inspiration behind a new television show called "Abby's Groovy Getaways". Abigail knows first-hand how challenging it can be to put a vacation together for all ages.
The show's first episode will find Abby in the midst of one of the most popular tourist attractions in America – Hollywood, California. Abigail will take you beyond the famous Hollywood Boulevard and Sunset Strip to a Hollywood spa hotspot and an exciting red carpet Hollywood premiere.
Each segment will include a celebrity interview about their favorite vacation destinations. Other journeys will take her to places like a haunted cruise ship, ghost towns of the wild wild west, one of America's most famous castles, a horseback riding camping trip, the countries most famous boardwalks and amusement parks, a day on a film set and much more.
Abigail leads a very interesting and diverse life, splitting her time between her home in Oklahoma and her life in Los Angeles. In Oklahoma she works on the farm, caring for livestock and horses, etc. while life in LA consists of a busy schedule, including movie and commercial appearances, and special red carpet events.
The show will begin airing in June 2011.
###