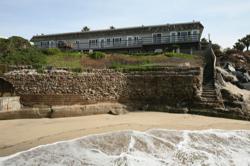 San Diego, CA (PRWEB) May 05, 2011
Ocean View Villas received the People's Choice Award for Best San Diego Wedding Venue in 2009 and 2010. This year, however, it will be the setting for A&E's one-hour pilot Big Mike, a plus-sized detective and a force of nature in the San Diego PD, whose greatest challenge is his romantic life.
There's Something About Mary co-writers Ed Decter and John Strauss wrote Big Mike and are exec producing with Doug Robinson. When they wrote the pilot, they pictured Big Mike's office location in a beautiful setting just above the ocean. Ocean View Villas is just that, and so they approached Watermark Property Management, managers of the property, to see if they could use Ocean View Villas in the filming of the Big Mike Pilot.
"Although our customer service is almost always praised, it's our location and the endless ocean views that deserve most of the credit for our rave reviews," said Harry Katcher, Marketing Manager for Watermark Property Management/watermarkvacations.com.
The oceanfront property consists of 5 two-bedroom units. They can be rented individually or all together. Weddings have become very popular here as the bride and groom can rent the whole property to house their friends and families, as well as have their ceremony on site, overlooking the ocean view to say their "I do's."
Goin2Travel is a website portal that lists Ocean View Villas as one of their San Diego vacation rentals. They list an array of unique vacation homes on line that are more charming, luxurious, and cozy than a hotel. They receive more targeted traffic and bookings than most other vacation rental sites because they focus on high search engine rankings for targeted regions - like Orlando vacation rentals. They are also continually working on marketing their site, and consequently have extremely satisfied advertisers and over two million vacation viewers each year.
# # #