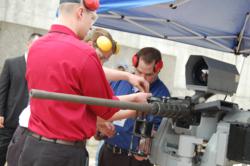 "This is an exciting opportunity for students to take modeling and simulation to the next level while discovering the future possibilities that exist for them at Crane." -- NSWC Crane Commanding Officer, Capt. Charles LaSota
Crane, Ind. (PRWEB) May 05, 2011
College students from across the Midwest ventured to Naval Surface Warfare Center, Crane Division (NSWC Crane) April 19 to compete in the first-annual NSWC Crane Undergraduate Design Contest.
Four teams totaling more than 20 students, represented the University of Louisville (UofL), Indiana University—Purdue University Fort Wayne (IPFW), University of Southern Indiana (USI), Butler University and Indiana University—Purdue University Indianapolis (IUPUI) in the contest. Butler and IUPUI formed one team because of the schools' Engineering Dual Degree Program. All universities hold an Educational Partnership Agreement (EPA) with NSWC Crane, which allows for increased collaboration and a mutually beneficial relationship between the university and NSWC Crane.
Developed to provide students the opportunity to tackle a real-world engineering problem, the contest serves as an important learning experience for the students involved. USI students even used it as their senior capstone project. Contest sponsors American Society of Naval Engineers (ASNE) and Access Technology Across Indiana (ATAIN) awarded cash prizes of $1,000, $500 and $250 to first, second and third place teams.
"This contest perfectly mimics real-life engineering situations that our engineers experience every day at Crane," said NSWC Crane Commanding Officer, Capt. Charles LaSota. "This is an exciting opportunity for students to take modeling and simulation to the next level while discovering the future possibilities that exist for them at Crane."
In early January, students were presented with the problem: the camera mounted to a widely-used Naval weapon system blanks-out during firing. Students were tasked to engineer a solution that isolates the camera and minimizes vibrations, while allowing it to be continuously monitored during firing.
Students either collected or were provided data to analyze for the project. They reviewed engineering drawings of the weapon and camera mounts and witnessed first-hand the effects of the weapon's influence on the weapon system during live fire. Teams communicated with NSWC Crane Weapon System Lead Engineer Jim Ernest throughout the months leading up to the competition and also had the opportunity to travel to NSWC Crane for one day to take their own measurements. Additionally, NSWC Crane loaned the camera to each team for one week for in-depth analysis.
Each team presented its unique solution to the judges, which was followed by a live-fire demonstration and testing of solutions. Judges included Ernest and Raymon Smith, ASNE treasurer and NSWC Crane engineer.
Ultimately, IPFW claimed victory and the $1,000 prize. UofL followed in second place, USI placed third and the Butler/IUPUI team rounded out the competition in fourth.
"We were presented with a problem that was very different than anything we have done in school," said Michael Kretschmer, IPFW team captain. "This contest was not only a challenging learning experience but also a great opportunity to do work that will make a difference."
Because all teams' solutions proved successful, judges relied heavily on the engineering analysis performed by each team as well as the solutions' viability and performance during live-fire to help determine the winner.
"I am very intrigued by all the solutions presented today and pleased with the overall results. Overall, IPFW presented the best in each category," said Ernest. "They did a very thorough engineering analysis, dampened the key vibration issues in the camera and performed well during the live-fire testing."
Slated to be an annual event, NSWC Crane hopes the competition next year brings the same amount of innovation and dedication from students.
Serving as a leader in technology-driven innovation and championing collaborative opportunities through university and school partnerships, NSWC Crane offers academia a critical mass of technical resources for educating our next generation workforce.
For more information regarding the Undergraduate Design Contest, contact Brian Thomas at brian.m.thomas1.ctr(at)navy(dot)mil or 812-854-8530.
As a Naval Sea Systems Command activity, NSWC Crane provides total lifecycle leadership in Special Missions, Strategic Missions and Electronic Warfare/Information Operations.
###