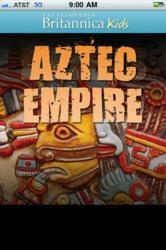 Britannica Kids apps have drawn praise across the board for their trustworthy coverage and full-tilt multimedia fun.
Chicago (PRWEB) May 05, 2011
Recognizing the company's fun, high-quality learning apps for kids, Apple has chosen five Britannica Kids apps to feature prominently on its iTunes "Apps for Learning" page through Mother's Day weekend.
The promotion follows similar shout-outs from the maker of iOS mobile devices, which has preloaded Britannica apps on in-store iPad 2 demos and featured them in the Apple Learning Tour for educators.
Britannica Kids apps, in fact, have drawn praise across the board for their trustworthy coverage and full-tilt multimedia fun since they were introduced in September 2010. The programs – created for the iPhone, iPad and iPod Touch for kids age 8-14—are each several apps in one. They include thorough and engaging facts, interactive games, photos, video and a variety of puzzles and quizzes. Adam Curry called them "outstanding" on The Big App Show, adding that they were "chock full of cool things to do." Bestkidsapps.com referred to them as "lush," TheiPhoneMom.com called the Britannica Kids Volcanoes app "beautifully designed" and iPhone Life gave Britannica's Ancient Rome "5 stars."
Technology and education journalists are invited to see why Apple stands behind these educational apps. A limited number of free downloads are available on a first-come, first-served basis. See below for contact information.
Since they were first released in the fall of 2010, the apps have proven popular all over the world. A Portuguese version of Britannica's Dinosaurs app will be introduced shortly, and versions in other languages may follow. Forthcoming titles in English include Snakes and Knights and Castles, both of which will be introduced this spring.
About Encyclopaedia Britannica Kids
Encyclopaedia Britannica Kids publishes engaging, high-quality digital education products for students in elementary and middle school. They include Britannica Kids Online, kids.britannica.com, a research and homework portal, and a series of multimedia mobile apps on popular school topics ranging from the solar system to ancient Rome. Encyclopaedia Britannica Kids is a division of Encyclopaedia Britannica, Inc., located in Chicago.
# # #