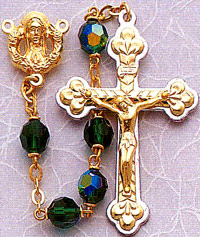 An estimated 21.5% [of Mother's Day gifts are] coming from online sales
San Mateo, CA (PRWEB) May 08, 2011
Responding to independent research that shows increased retail sales on Mother's Day, and that nearly 82 million Americans use the Internet for faith-related activities, Discount Catholic Products launches a website redesign and a wide array of Catholic gifts for Mother's Day. "After the increase of interest for religious items during Easter, Mother's Day is one of the busiest times of Spring for us," says Kristen Padula, spokesperson for Discount Catholic Products, a leading online vendor of quality Catholic products such as rosary beads.
Research from the Pew Internet and American Life Project by the Pew Research Center indicates that nearly two-thirds of Americans use the Internet to conduct religion-related research and purchases. Additionally, a survey published by the National Retail Federation in April 2011 points out that interest in religious items increased by almost 11% since last year. Similar figures are expected for Mother's Day 2011, with an estimated 21.5% coming from online sales. In light of these studies, Discount Catholic Products launches a selection of Catholic Mother's Day gifts and a redesigned website with an easy-to-use interface to ensure a pleasant online shopping experience.
"With larger graphics and text, and new categories and navigation, our customers are able to easily find their way around the website. Not only this," Ms. Padula continues, "but we've also responded to requests from loyal customers, expanding our Mother's Day gift selection."
For 2011, customers can choose from thousands of decorated music boxes, "Salerni" rosary boxes, Catholic artwork, Swarovski crystal frames and rings featuring popular saints. Many of these products can also be personalized with engraved messages. For their returning clientele, Discount Catholic Products wants to make it clear that they still offer rosary beads and other jewelry items, such as their popular Catholic religious medals and cross necklaces.
With less than a week to go, the company still sees a demand for Catholic Mother's Day gifts. Ms. Padula concludes that while some may shop early for their loved ones, a large majority waits to find the perfect gift. Discount Catholic Products presents a wide selection of the highest quality religious gifts for all occasions—especially Mother's Day.
For more information, please visit http://www.DiscountCatholicProducts.com.
About Discount Catholic Products
As an online presence in the Catholic community since 2003, Discount Catholic Products™ is committed to upholding its reputation for great selection and superior customer service. Our high quality products, such as our rosary necklaces, medals and cross necklaces, speak for themselves and make wonderful gifts to commemorate special occasions. We take pride in our products and offer the highest quality of religious gifts for all occasions - Baptism, First Communion, Confirmation, wedding, or for other spiritual or sacramental occasions.
# # #