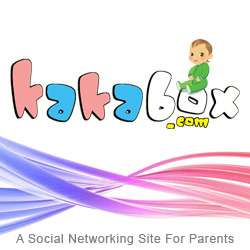 Explore a world full of information, activities, events, playdates, games, and interaction with other parents.
(PRWEB) May 06, 2011
Social networking is the popular buzz word today, but more than that, it represents the valuable opportunity to gather like-minded people around a specific interest or concern. Kakabox.com has identified an important interest niche in the world of parenting, especially babies and young children, but also including teenagers.
This new, interactive site offers a variety of useful, easy-to-use tools for parents. By placing photos of the newest addition to the family on a specially designed baby timeline, parents can permanently capture those early golden moments, "firsts" and developmental stages. Even more, these pictures become easily available to share with grandparents, aunts, uncles and special friends living across the country or around the world. One of the special features of Kakabox.com is the option to print out best quality photos that parents may choose to frame or share by mail with friends and family.
There is also a journaling section for recording those precious moments that can be so quickly forgotten in the busyness of life. Unlike the traditional "baby book" that often gathered more dust than actual information, the interactive Kakabox.com site allows parents grab a spare minute while checking email to sit down and record by word and video life as it happens. Because the site is designed for sharing memories as well as saving them, family members can actively enjoy watching that first step, learning to ride a bicycle, the first day of school and all those other special events in every child's life.
The slogan of Kakabox.com is "Share, Learn, Connect" and in keeping with these goals, the site offers a forum in which parents can ask specific health and child-related questions. Not only can other parents share their accumulated wisdom, but expert advice is also presented in articles covering topics such as how to choose a caregiver, how to feed the picky eater, why timely vaccinations are so important and so much more. The section of the site devoted to educational content is conveniently divided into age categories so that parents can find the best knowledgeable advice for their child at any specific age. Parents can also ask their own unique questions. For those new to parenting, this opportunity to quickly get answers to troubling or perplexing childcare concerns is almost as great as having a personal baby and childcare advisor living right in the home.
Unlike years past, when experienced grandparents lived-in or nearby, today's young families are often miles away from all their other relatives. They can easily feel isolated and overwhelmed with the responsibility of correctly raising a new baby or struggling child. Kakabox.com offers a social networking community environment designed to fill some of that void. Photo contests for "Baby of the Month" are judged by members with fun prizes and awards. Activities, social events and even play-dates can be organized and scheduled easily. The interaction focused around parenting issues allows opportunity to trade tips and ideas, offer encouragement and suggest new approaches to the challenging task of raising healthy, happy, well-balanced children in today's world.
Kakabox.com even offers games for those few moments when parents or site visitors may just want to be a kid again themselves. All of these activities are child-friendly and parent-approved, so even the younger ones can have fun picking from a large selection that includes age-appropriate games such as "Candy and Clyde," "Galaxy Runner," "Cyber Mice Party," or "Tennis Grand Slam."
Another of the very unique and useful features of Kakabox.com is its Sleep Mode. With a simple click, parents can dim their laptop screen and release soothing classical music with a gentle light show that invites even the most unwilling baby to relax enough to fall asleep. Helping reluctant sleepers adjust to bedtime can be as simple as letting the laptop program do its work. Perhaps nothing is more difficult than listening to a frustrated baby cry himself or herself to sleep. When Sleep Mode is engaged, babies are enraptured by the lightly colored images that float across the screen in rhythm to the lulling classical music. What once may have been a nightly battle can become a serene transition time, and in minutes the most reluctant baby will be drifting away to dreamland.
Kakabox.com is excited about future plans for making this site even more functional and useful to parents. More pertinent content will be added in an expanded learning center. This site will soon be the popular go-to place for parents with childcare questions or concerns. There will also be new features for printing books, calendars and other useful tools.
True to its slogan, Kakabox.com offers a social networking site making available the opportunity to Share with family and friends photos, tips and experiences; Learn from each other and the experts how to best parent from birth through the high school years; and Connect with other parents dealing with the same challenges and developmental situations.
Registration is free. New parents are always welcome. Check out Kakabox.com today for all your parenting needs.