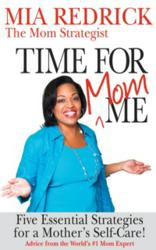 Giving Mom the gift of self-care, not just for a day, but for the whole year, is far more precious than anything that costs money.
Baltimore, MD (PRWEB) May 04, 2011
Being a mom is the hardest job in the world, so it's no wonder that so many surveys show that some form of self-care is the number one requested gift for Mother's day. Mia Redrick, the Mom Strategist, says self-care should be something that happens for mothers year-round, not just on Mother's Day.
One of the most recent surveys for Mother's Day 2011 comes from Clinton Cards. Of the top 10 most-requested gifts, six of the 10 items involved self-care. Mothers are requesting a good nap, someone else to make dinner and clean up afterward, quality time with the family or significant other, and simply hearing their children write them a thoughtful note and say, "Thanks, Mom!"
What's even more interesting is that last year's Mother's Day gift list didn't look much different. A survey by Holidash, a website that focuses on holidays and special occasions, showed that Moms wanted dinner out, professional massages, an empty house for a day, their own space, and simply, "a day off."
Redrick says, "These surveys show that most mothers feel like they have to ask for self-care as a gift. If it's a gift, then it's a treat, something that doesn't happen regularly. But self-care should be scheduled on the calendar just like all of the other family activities."
Perhaps even the saddest part of these Mother's Day surveys is the fact that most mothers do not hold high expectations of their wish list even being fulfilled. According to the National Retail Federation, only 15 percent of mothers will receive spa services, while 70 percent of them will receive flowers, which weren't even on the list. And that says nothing about the majority of the requests, which have no monetary value at all.
According to Redrick, the key to really helping Mom feel special this year is giving her not just a day of self-care, but a whole year of scheduled "time off." Here are some tips on how to make sure self-care becomes a regular part of Mom's life:
1. Give Mom a home-made calendar which shows her regularly scheduled "time off." Remember to follow the schedule you create! Pick one day a week when the family's schedule allows Mom to have time off and give her two hours to do only what she wants to do, whether it's have quiet time to read, or going out for a night with the girls. No one is to interfere with Mom's special time because it's your gift to her If something comes up and interferes with Mom's regularly scheduled time off, then you must trade that out with another time during the week. You may consider making a personalized calendar and using pictures of the family to make it even more special.
2. Hire a cleaning service to come and clean the house once a month. Sometimes self-care is simply about Mom not having to do everything herself. Having a cleaning service come in and help keep the family home clean will really show Mom that you care about her having time to herself instead of having to spend every spare moment picking up after the kids.
3. Agree to take on some of Mom's chores—for the next year or longer. On nights when Mom cooks, take the initiative to clean up the dishes afterward. Also schedule one night each week to make dinner for Mom. If you don't yet know how to cook, don't worry about it. You can learn, and in the meantime, Mom will be excited about the fact that she didn't have to make it!
4. Don't just buy mom a gift; give her time to enjoy it. If Mom enjoys gardening, then opt for flowers she can plant outside rather then cut flowers that will die. Actually give her some of your time by helping her plant them in her garden and experiencing her hobby with her. If Mom is more of a book junkie, then don't just give her the book she's been wanting. Buy her a gift card for Starbucks to go with it and let her get away from the house for a while.
Most mothers don't necessarily want their children to spend money on them this year. Redrick says, "Giving her the gift of self-care, not just for a day, but for the whole year, is far more precious than anything that costs money. Mothers spend their lives caring for their children; it's up to the family to also care for Mom by giving her the gift of self-care year-round."
Redrick's goal for 2011 is for one million moms to practice better self-care. Her website, TimeforMom-Me.com, is an online self-care community where moms can find more tips for practicing self-care and make connections with other moms who are practicing self-care. There are almost 30 local TimeforMom-Me groups located all over the United States.
About Mia Redrick:
Mia Redrick, the Mom Strategist, is a best-selling author, speaker, and award winning mom coach who founded Finding Definitions, LLC. She has been featured in numerous publications, including CNN.com, The Washington Post, and ABC News' 2 the Point and Women's World Magazine as well as a featured expert online at Sharecare.com.
Contact:
Anne Leedom
916-939-8246
anne(at)netconnectpublicity(dot)com
Time for Mom-Me:
Five Essential Strategies for a Mother's Self-Care
by Mia Redrick
2008; ISBN: 9-7809-7962-7309; $15.99/paper
###