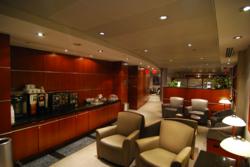 The Club at RDU serves all passengers…you don't need a membership to enjoy all of the amenities the lounge has to offer
(PRWEB) May 05, 2011
The Club at RDU opened its doors on May 1st, 2011. Located in the former U.S. Airways Club location in Terminal 1 across from Gate A21, this lounge welcomes all passengers traveling through Raleigh-Durham International Airport. Raleigh-Durham International Airport has retained Airport Lounge Development, Inc. (ALD) to operate and market the lounge.
Open daily from 5:30 a.m. to 7:00 p.m., the Club at RDU offers complimentary snacks, juice, tea, coffee, soft drinks and alcoholic beverages. Guests can also select from a menu of premium food and beverages to enjoy more of a meal. Passengers may also use the PC workstations and printers; telephones and fax facilities; meeting room or merely access the complimentary Wi-Fi service. For those looking to relax, satellite television along with newspapers and magazines are available.
"The Club at RDU serves all passengers…you don't need a membership to enjoy all of the amenities the lounge has to offer," said Graham Richards, the Operations Director for Airport Lounge Development, Inc. "This location is the second airport lounge opened by the company and we have others planned throughout 2011 and 2012. Following our model from The Club at DFW (Dallas / Fort Worth International Airport in Texas), our lounges provide a relaxing environment for passengers to catch a quick snack, use the business center services or merely unwind before catching their flights."
The Club at RDU offers special programs for frequent flyers, corporations and group travel. And, as a Grand Opening special, passengers can access the lounge for only $24.95. Children twelve (12) and under are admitted for free when accompanying an adult. The Club at RDU also accepts members of Priority Pass, the world's largest independent airport lounge access program, and The Club Card; and Diners Club International cardholders.
So, whether traveling for business or pleasure, be sure to stop by The Club at RDU on your next trip. For a full list of amenities visit http://www.TheClubAirportLounges.com.
About Airport Lounge Development, Inc.
As part of The Collinson Group, a dynamic, privately held company based in the UK, we bring our expertise and insight form the travel industry to offer deeper, forward-thinking solutions for the benefit of passengers, airports and airlines in the form of shared airport lounge concepts. We have a proven history of excellence and service in the arenas of travel insurance, travel clubs and loyalty programs. Our global family at The Collinson Group spans 25 international offices with over 900 employees serving more than 21 brands, including industry leaders like ICLP and Priority Pass.
At ALD we draw upon our rich experience in travel-related business and have the resources and partnerships in place to help you realize your vision. From concept to completion, our longstanding, established alliances within the travel industry enable us to offer full spectrum consulting on your next airport lounge project.
For more information, contact Brenda Rausch, Operations Manager, at +1 469.467.1743 or brausch(at)airportloungedev(dot)com. You may also visit http://www.AirportLoungeDev.com.
# # #