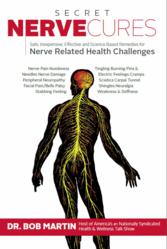 "You can be your own doctor most of the time-Secret Nerve Cures tells you how"
Dr. Bob Martin
Kailua, Kona, Hawaii (PRWEB) May 09, 2011
Nerve Problems Not Understood? New Book Offers Hope, Solutions
Most trained neurologists feel inadequately trained to deal with nerve and pain disorders. Secret Nerve Cures outlines safe and effective lifestyle solutions.
Nerves are a sort of mystery to most of us. Sadly, more people than ever suffer from nerve conditions and many don't realize that unhealthy nerves are at the root of their problems. How bad is the "nerve problem"? Consider these statistics:

About 70% of diabetics suffer from neuropathy (a nerve condition causing numbness, tingling, pain and burning sensations)
Low back pain affects 80% of people at some point in their lifetime
Shingles (a painful nerve-related skin condition) affect 1 million Americans each year
Trigeminal Neuralgia (a painful condition of the face) affect 1.7 million persons in the U.S.
Over 26 million Americans are diagnosed with Carpal Tunnel Syndrome (a nerve-related wrist disorder) each year
As bad as these numbers seem, even worse is that those individuals suffering from nerve problems don't know where to turn. Why? Few trained doctors understand how to deal with the problem. In fact, a recent medical study published in the Journal of Neurology found that as few as 20% of neurologists felt adequately trained to treat pain disorders.
Fortunately, the newly released book, Secret Nerve Cures, offers hope and potential solutions to nerve conditions of every sort. Authored by Dr. Bob Martin, DC, CCN, DACBN, ABAAHP and nationally syndicated health talk show host, Secret Nerve Cures addresses the human plague of nerve disorders—spread consequentially via our modern lifestyle—and numerous therapies and solutions for those disorders. These solutions vary widely and include dietary approaches, physical therapy, topical applications, and nutritional supplements.
"One of the most challenging tasks for consumers suffering from some type of nerve related condition is to find a form of treatment that works and/or a health care provider capable of rendering safe, effective and affordable care," says, Dr. Martin. "But this book offers hope to millions of people who may have otherwise given up or simple don't know where to turn for help."
In Secret Nerve Cures, Dr. Bob Martin finally reveals his personal secrets behind the most prevalent nerve related challenges and what to do about them—once and for all. Secret Nerve Cures is available through amazon.com, local health food and book stores, and on Dr. Martin's website, http://www.doctorbob.com. Dr. Martin is available for print, radio and television interviews.
# # #