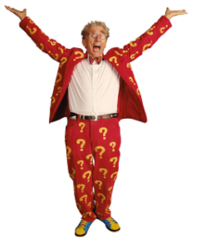 Education is our future
Rockville, MD (PRWEB) May 06, 2011
TV Infomercial personality and government grants guru, Matthew Lesko announces the launch of the "I Don't Need My Government Money" Scholarship Fund for community college students.
Starting with the Frederick Community College, Lesko is promising to make several $1000 payments today.
Lesko says that the funds will be from his social security payments of $2400 a month for which he says he has enough money to live comfortably without the government check.
Lesko, a longtime supporter of education and public libraries says that one of the most common reasons for purchasing his books has been for the free money education sections. Online, the college grants section at http://www.mlesko.net that lists 100's of free money programs is amongst the highest visited portion of the site.
"Education is our future and the need for education money is always in high demand," says Lesko. "I can help that future with the Government Money That I Don't Need Fund." Lesko hopes to expand the program to community colleges nationally. He encourages other wealthy Americans to join him in giving their social security checks to education and those in need.
Matthew Lesko has spent over 25 years helping people take advantage of government money, loans, guarantees and other free programs. He has written over 100 books on free money. Lesko's website along with numerous free money sources can be found at http://www.mlesko.net.
###