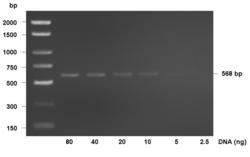 Cleveland, Ohio (PRWEB) May 18, 2011
With life science researchers calling for products that are safer for use in the lab and the environment, AMRESCO's EZ-Vision® In-Gel Solution,10,000X joins the company's popular line of non-hazardous, non-toxic EZ-Vision® products developed to provide an alternative to the use of ethidium bromide.
Heath Bowers, Research and Development Supervisor, states, "We've had a great deal of demand in our market for products that not only streamline processes for greater efficiency and consistent results at the bench, but are safer and more sensitive for both people and the planet. We believe that research to improve the human condition shouldn't include risking the researcher."
To meet that need, AMRESCO's EZ-Vision® DNA Dye is now available as an in-gel stain in the newly released EZ-Vision® In-gel Solution, 10,000X. It contains a non-toxic, non-mutagenic DNA visualization dye, enabling the elimination of commonly-used, but hazardous ethidium bromide from DNA gels. The solution is added directly to molten agarose prior to casting to allow binding to DNA during electrophoresis. When electrophoresis is complete, no destaining or washing step is required. The gel can be illuminated by standard UV light to immediately reveal the DNA bands. EZ-Vision® In-gel Solution can alternatively be used as a post-electrophoresis stain, with staining and washing complete in 40 minutes. As little as 2.5 ng of DNA can be detected using EZ-Vision® In-gel Solution, which is comparable sensitivity to that of ethidium bromide.
Researchers worldwide are already benefiting from the switch to EZ-Vision® products for DNA. The new EZ-Vision® In-gel Solution complements its predecessors, adding greater flexibility for DNA staining in agarose gels. The EZ-Vision® DNA dye it contains is safe, enabling gels to be handled without exposing lab personnel or the environment to hazards. Switching to EZ-Vision® In-gel solution not only eases regulatory concerns regarding gel disposal, it also increases cost savings because gels can be safely discarded in common trash bins. EZ-Vision® In-gel Solution, 10,000X is simple to use and optimized to work with standard UV gel documentation systems already present in most labs. For more information about EZ-Vision® In-gel Solution or any other EZ-Vision® products, visit http://www.amresco-inc.com or call 1-800-448-4442.
AMRESCO, LLC is a manufacturer and supplier of high quality biochemicals and reagents for molecular biology, life sciences, proteomics, histology and clinical areas of research. Celebrating its thirty-fifth year in business, AMRESCO continues its mission to provide the research community with products that are safer for use in the lab and for the environment. The company is ISO certified and has QSR compliant facilities to ensure customers receive the highest quality products.
###