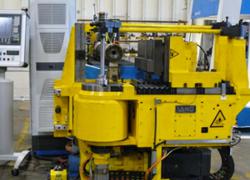 New Berlin, WI (PRWEB) May 08, 2011
Customers needing pipe bending and tube bending projects completed quickly and accurately could always count on Sharpe Products to get the job done. With the acquisition of their fifth all-electric tube bender, now those custom metal bending jobs can be completed even faster.
In response to increasing customer demand for a wide range of quality, cost-effective bent pipe and tube products, and in keeping with their "Lean and Green" policies, Sharpe purchased the 90mm Lang bender last month.
This machine can bend pipe and tube up to 3-1/2" O.D. and expands the range of pipe bending services available with their existing all-electric tube benders – the Unison CNC 76mm and the Unison CNC 130mm bender. All machines have multi-radius stacking and rolling capabilities. These machines provide high accuracy and repeatability, reduced set-up times, and reduced scrap, all of which greatly reduce the customers' costs and provide an environmentally-responsible solution.
Sharpe Products, located in New Berlin, WI, is an ISO 9001:2008 registered company. They provide custom pipe bending and tube bending, along with additional metal fabricating services. Visit http://www.sharpeproducts.com for more information on the pipe bending and tube bending services and bent pipe and tube products that Sharpe Products offers.
###