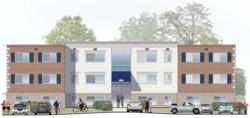 We view Regency Pointe as an excellent opportunity to acquire a well-located apartment community in a strong rental market at a historically low basis with significant opportunities to add value through renovation and repositioning
Rockville, MD (PRWEB) May 05, 2011
The Donaldson Group (TDG) of Rockville, MD and its equity partner, New York-based Angelo, Gordon & Company (AG), have acquired Regency Pointe, a 599-unit apartment community in Forestville, MD for $20 million. The partnership plans to invest an additional $16 million to renovate this community, located on 24.6 acres just inside the Washington Beltway and three miles from the District of Columbia line, with excellent frontage on Pennsylvania Avenue.
In June of 2010, the partnership acquired a defaulted $32 million senior loan on the property from Wells Fargo, and proceeded to foreclose on the owner, MPI Cambridge, which had been in bankruptcy since mid-2009. TDG/AG agreed to sell the property to another party at an August 2010 foreclosure auction, but that sale ultimately did not close. Following a period of litigation, the TDG/AG partnership has finalized its acquisition of the Regency Pointe property.
"We view Regency Pointe as an excellent opportunity to acquire a well-located apartment community in a strong rental market at a historically low basis with significant opportunities to add value through renovation and repositioning," said Carlton Einsel, Executive Vice President, The Donaldson Group. "Despite its excellent location within the submarket, the property has suffered operationally as a result of mismanagement and poorly capitalized ownership."
TDG plans to start improvements immediately, beginning with a full renovation of the 77 units that are unoccupiable due to fire and other damage. TDG also will renovate additional unit interiors, providing new upscale kitchens, flooring, lighting, carpeting, doors, fixtures and upgraded bathrooms. The exterior building facades will be improved with new siding as well as new decorative cornice molding and shutter treatments. TDG will upgrade hallways and stairwells, provide a new fitness center and business center, upgrade laundry rooms, repair and replace roofs, fix broken concrete and asphalt, and improve landscaping throughout the community.
In addition, TDG plans to replace the obsolete and inefficient central heating and cooling plant with individual energy-efficient electric heat pumps for each apartment unit. TDG also will repair the remaining water pipes with an epoxy lining to stop expensive and wasteful leaks.
Regency Pointe enjoys a convenient location just off Pennsylvania Avenue in Prince George's County, MD, just four miles from the Suitland Federal Center – home to the U.S. Census Bureau and the National Oceanic and Atmospheric Administration – and five miles from the Joint Base Andrews Naval Air Facility. Shopping centers just across Pennsylvania Avenue offer popular stores and restaurants such as Target, Burlington Coat Factory, Starbucks, Applebee's, TGI Fridays, and SuperFresh. Also nearby is National Harbor, the new riverside dining and entertainment destination with nearly 30 restaurants including Rosa Mexicano, McCormick & Schmick's, Elevation Burger, and Bond 45. The Suitland and Branch Avenue Metro stations are located near Regency Pointe.
Founded in 1998 by Walter R. Donaldson, CPM, The Donaldson Group is a full-service real estate management and investment firm offering comprehensive services and expertise in property and asset management; accounting and financial management; investment, underwriting, and acquisition analysis; and construction management and renovation services. Since 2003, TDG has advised clients on the acquisition of approximately 11,000 multifamily units valued at over $1.25 billion, and has taken over management of approximately 16,000 units. During the same time period, TDG has advised clients in disposing of over $1 billion in real property investments, comprising approximately 8,400 units, and has managed over $125 million worth of renovation work. For more information, visit http://www.thedonaldsongroup.com.
Angelo, Gordon & Co., L.P. (AG) is an SEC registered investment adviser that makes investments directly and on behalf of various investment funds for which it acts as the investment manager. The firm currently manages assets of approximately $24 billion. Over the past 18 years, AG has participated in over 300 real estate investments on behalf of the firm and various managed investment funds, with a gross purchase price in excess of $13 billion.
###