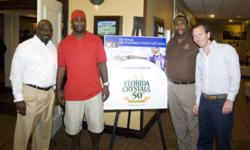 West Palm Beach, FL (PRWEB) May 06, 2011
Florida Crystals Corporation is excited about the opportunity to partner with an established youth organization, the Anquan Boldin Foundation (Q81 Foundation), to develop a series of summer enrichment activities for students in the Glades communities of Palm Beach County, says executive vice president Pepe Fanjul Jr.
The summer activities for students in the Tri-cities will include a two-day sports camp led by three-time Pro Bowl receiver and Pahokee-native Anquan Boldin and other top-name professional athletes from the area.
"The collaboration with the Anquan Boldin Foundation is an ideal fit within the framework of support Florida Crystals strives to build in the communities," said Pepe Fanjul Jr.
Florida Crystals, a leading sugar producer, headquartered in Palm Beach County, supports educational and developmental programs for students and families in the communities of South Bay, Pahokeee and Belle Glade in western Palm Beach County. The area is home to the majority of the company's Florida operations. Florida Crystals has been an active member of the community since 1960, when the company built its Osceola sugar mill.
"We are always ready to do our part as a proud member and partner in the community to help its next generation of leaders with their personal growth and development," Fanjul Jr. added.
The Q81 Foundation, established in Pahokee area in 2004 by Baltimore Ravens Pro Bowler Anquan Boldin, set forth a goal to provide quality after school programming in Pahokee, primarily for kids 13 and up who have very limited resources and support.
Everglades Preparatory Academy, a charter school in Pahokee that was founded to give parents and students in the Glades communities a broader choice for high school education, will host the summer activities.
About Florida Crystals Corporation
Florida Crystals Corporation is a leading, fully integrated cane sugar company that farms 187,000 acres in Palm Beach County, Fla., where it also owns two sugar mills, a sugar refinery, a packaging and distribution center, a rice mill and the largest renewable power plant in North America. Its renewable energy facility delivers clean power to its sugar operations and tens of thousands of homes. Florida Crystals is the only producer of certified organic sugar grown and harvested in the USA and the only producer certified CarbonFree® sugar, which means its products have a carbon neutral footprint. Florida Crystals, with its subsidiary, American Sugar Refining, Inc., the world's largest cane sugar refining company, owns and operates sugar refineries in six countries worldwide. Its products are marketed through its brand portfolio: Domino®, C&H®, Redpath®, Tate & Lyle® and Florida Crystals®. Florida Crystals, a Fanjul Corp. company, is headquartered in West Palm Beach, Florida.
# # #