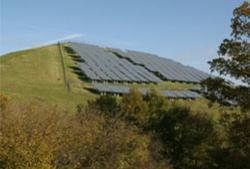 Whirlwind has supplied alternative steel racking components for the Solar Industry with over 4,500 Tons of steel in the last five years
Houston, TX (PRWEB) May 10, 2011
Whirlwind's innovative metal components and framing members have provided companies designing and installing large scale solar arrays with an economical alternative to the expensive solar rack systems in the marketplace. Many of the rack systems are not erector friendly. They are engineered to save money on material and the manufacturing process. Additionally, the rack systems available consist of mostly stainless and aluminum framing and a tremendous amount of hardware that costs a fortune.
Many solar integrators and large scale solar electricity producers have discovered that by working with the Whirlwind components and framing systems, they could develop a rack system that spoke to their design, budget and installation needs. It is often the case that location, tilt angle and different solar equipment, make it necessary to tweak a design so that it meets the individual needs of the solar array. This is why our "team approach" works best. Our clients' Engineers work with Whirlwind's material and method experts to develop the most effective framing solution for the individual project or group of projects in a certain area.
Whirlwind has over 50 years of experience in developing cost effective framing solutions and incorporates state of the art roll forming equipment to create a lower priced rack system solution.
Because Whirlwind has a background in steel structures, rack system builders can benefit from Whirlwind's knowledge of standard connections and punching which applies to the various secondary structural framing members Whirlwind fabricates.
The new website offers free downloads related to design/cross section properties, standard punching patterns, and 18 pages of framing members and parts in the components catalog. The large variety of parts and engineering data can be used by the design professional to create and value engineer an economical rack solution.
Whirlwind has supplied alternative steel racking components for the Solar Industry with over 4,500 Tons of steel, on the job, just in the last five years. The structural support systems for traditional crystalline PV solar modules are manufactured to the client's specifications through the use of a specialized G90 hi tensile cold formed custom fabrication process.
The Whirlwind team specializes in servicing the commercial and utility markets with roof-top and ground mount structural rack system parts. The metal components are IAS-AC72, formerly AISC, and CSA Standard W47-1approved and certified. The production process allows for flexibility, precision factory tolerances, and custom designs. The products are durable, economical to produce, and efficiently incorporated into a design. The added value is apparent when comparing the approach to other rack solutions. By using the Whirlwind methods and materials, many of the small parts and pieces are eliminated and a more user friendly solar rack solution results.
Whirlwind Steel Buildings, Inc. has manufacturing facilities in Georgia, Minnesota, Oklahoma and Texas. Contact Fred Reardon, for more information at 310 748 5428 or fred(dot)reardon(at)whirlwindsteel(dot)com. For more information about Whirlwind Steel Buildings or Whirlwind Building Components go to http://www.whirlwindsteel.com or call 800 324 9992.
###