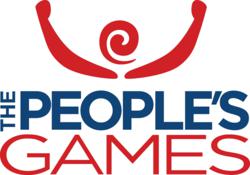 Los Angeles, CA (PRWEB) May 04, 2011
The People's Games this week launched a freshly designed web site, http://www.peoplesgames.com, taking one step closer to igniting the rivalry between coasts with an upcoming New York City vs. Los Angeles basketball series starting Sunday, May 8, 3 p.m. PT, at the famed Venice Beach Courts in Los Angeles.
The People's Games evolved site invites fans from both cities to participate in a best-of-three basketball tournament, enabling New Yorkers and Angelenos to show their civic and athletic pride.
The People's Games site also serves as the home of the live blog and social media coverage of the action on May 8, 10 and 11 (if a third game is necessary). Fans from both New York and Los Angeles can log in to the site follow the games in real time, as well as exchanging comments as it happens on the "Participate" page.
Fans can also follow the action through The People's Games official pages on Facebook, YouTube and Twitter, bringing a further layer of community interaction.
The site's extensive video section introduces fans to behind the scenes insights of NBA greats and team coaches "Earl the Pearl" Monroe and Lucius Allen. Monroe, a New York Knicks legend, NBA champion and Hall of Fame member, heads the NYC team. Heading the Los Angeles squad, Allen is a UCLA legend and NBA champion with two NCAA titles under legendary coach John Wooden, as well as a Lakers alumni.
PeoplesGames.com videos introduce players from both rosters; including the grueling tryouts they survived to represent their hometowns. Interactive features on the site include a trash talk board, where fans can leave real time messages to fire up their team or lay the smack down on rivals. Other features include polls from fans to show support for teams or players.
The site includes a fan community, where fans of basketball, New York City or Los Angeles, can connect with other members by adding them as a friend. Fans can create bios for their profiles and post photos to the site's gallery.
An official blog and news section for The People's Games keeps fans up-to-date on the latest team and series developments. The site includes even more features, which you can check out with a visit: http://www.peoplesgames.com.
About The People's Games
The People's Games is a new brand of sport in America. It is an original and unique concept which provides an opportunity for the common man to represent their city in sporting competition against rival cities. It's an opportunity for real people...teachers, taxi drivers, policemen, janitors, waiters, etc...to live out their dream of playing in a big time sporting event, representing their family, neighborhood, and city in pursuit of the thrill of victory.
The People's Games recaptures the way sports used to be...when it was about heart, passion, and teamwork...played by people of varying backgrounds, race, religion, and social status...in short, when people played for "the love of the game", not for money or fame. Unlike other competitions, players on a team must come from the city for which they play.
###