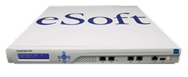 "This tool is about as close to plug-and-play as it gets" said Peter Stephenson, SC Magazine's technical editor.
Broomfield, Colorado (PRWEB) May 05, 2011
eSoft is proud to announce it has received more glowing industry accolades, most recently in SC Magazine, with 5 out of 5 stars for the company's InstaGate 604 in the prestigious publication's Unified Threat Management (UTM) group test (SC Magazine, April 2011). This group test focused on features, ease of use, performance, documentation, support, and value for money.
eSoft's InstaGate 604 scored an overall rating of 5 of 5 stars, and 5 out of 5 for its Features, Ease of Use, Performance, Documentation and Support. "This tool is about as close to plug-and-play as it gets" according to Peter Stephenson, the magazine's technical editor. He also noted, "We find it to be a good value for the money based on its solid feature set and easy configurability...[eSoft's ThreatMonitor, a web filtering & report tool] provides near real-time statistics that are easy to read and provide a solid bird's-eye view of the latest threats and policy violations."
Additional features about the InstaGate 604 referenced in the article include:
· Full-Featured: "This product features a full stateful firewall with deep packet inspection out of the box and can be customized with specific eSoft ThreatPaks, such as the Web ThreatPak that includes gateway anti-virus, web content filtering, intrusion prevention, bot detection, and IM and P2P application blocking."
· Simplified GUI: "with a very organized layout, it is still quite easy and intuitive to navigate. While the appliance is pretty much ready to go after the setup wizard, tweaking and customizing policies and rules is easy to do within the interface."
· Documentation: "Included a short quick-start guide that illustrates the steps to connecting the InstaGate to the network and completing the setup wizard."
· Support: "Provided by eSoft includes 90 days of free phone aid as part of the purchase price of the appliance, and ongoing support purchased as part of a plan."
"eSoft is delighted to be awarded the esteemed honor of 5 of 5 stars for the InstaGate 604 by SC Magazine," said Mike Donnell, eSoft's CEO. "eSoft works diligently with the input of our channel partners and end customers to make the most robust, flexible and easy to manage security products possible and this award is further confirmation that we're succeeding."
The full SC Magazine review can be found at http://www.scmagazineus.com/esoft-instagate-604/review/3454/.
For more information about eSoft's award-winning InstaGate Unified Threat Management (UTM) solution, visit http://www.esoft.com or http://www.esoft.com/contact/.
About SC Magazine
SC Magazine provides information security professionals with the in-depth, unbiased business and technical information they need in today's fast-paced corporate world. Each month, SC Magazine delivers up-to-date news, comprehensive analysis, cutting-edge features, contributions from thought leaders, and the best, most extensive collection of product reviews in the business. Whether through its monthly magazine, its comprehensive website or live events – such as the SC Magazine Awards program and SC Congress Canada – readers gain all the relevant information they need to safeguard their businesses overall and meet specific IT security goals at the same time. SC Magazine was selected as 2010 Magazine of the Year by the American Society of Business Publication Editors (ASBPE). Become a fan of SC Magazine on Facebook and follow on Twitter.
About eSoft
eSoft (http://www.esoft.com) is a leading provider of integrated network security solutions offering organizations protection from dynamic Internet-based threats. eSoft's award winning InstaGate. and ThreatWall. platforms offer high-performance Deep Packet Inspection security services including firewall, UTM, complete email security, and total web security. eSoft solutions provide IT managers with simplicity and flexibility when deploying and managing network security. Fewer demands for time and security expertise from IT staff lower the total cost of ownership. For more information, contact eSoft at
295 Interlocken Blvd., #500,
Broomfield, Colo., 80021, USA,
Phone + 1 303-444-1600
Fax + 1 303-444-1640
http://www.esoft.com or pr(at)esoft(dot)com. eSoft, InstaGate, SoftPak Director, ThreatWall, and ThreatPak are all trademarks and/or service marks of eSoft. This press release contains "forward-looking statements" within the meaning of the Private Securities Litigation Reform Act of 1995. These statements often can be identified by the use of terms such as "may," "will," "expect," "believe," "project," "estimate" or words of similar meaning. Readers should not place undue reliance on these forward-looking statements, and eSoft will not necessarily update these statements to reflect subsequent developments. In addition, these forward-looking statements are subject to risks, uncertainties and important factors that may cause actual results to differ materially from those anticipated.
# # #