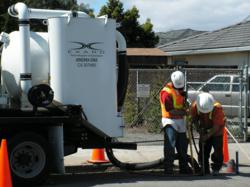 We got really lucky; we were going to drill with an excavator mounted ho-drill in that location the following day
Burlingame, CA (Vocus/PRWEB) May 05, 2011
EXARO Technologies Corporation, a Bay Area general engineering contractor, was recently hired by a contractor to verify utility locations (known in the industry as "to pothole") as field marked by utility owners prior to their drilling. Using their utility designation techniques, EXARO Technologies Corporation discovered the unmarked 20" transmission gas main right where a drilling rig was scheduled to start the next day. The transmission gas main was not marked within the USA zone. The EXARO team's extra diligence averted the tragedy of an exploding gas line.
"We got really lucky; we were going to drill with an excavator mounted ho-drill in that location the following day," said the hiring contractor with relief.
The EXARO team was potholing for a telephone line marked within the USA zone, but did not find it per the utility owner's marks. The EXARO team took the next step in their quality control process, which is to perform their own utility designation activities. During the process, they did not get solid response from equipment, but rather unusual results which let them to believe something was below even though they could not get a solid detect/locate on it. They attempted two additional potholes and found the unmarked 20" transmission gas main. Had they not discovered it, disaster could have befallen the drilling rig that was scheduled to begin drilling in that exact spot the next day and severely crippled transportation infrastructure.
As a result of this incident, EXARO Technologies Corporation has implemented a new process throughout their work areas in Northern and Southern California in an attempt to close the gap that may exist. This process will help EXARO prevent future catastrophic events and save lives.
For more information about the disaster averted by EXARO or any of EXARO Technologies Corporation's services, call them at (650) 777-4324 or view them on the web at http://www.exarotec.com.
About EXARO Technologies Corporation
EXARO Technologies is a one stop shop for all utility locating needs in Northern and Southern California. Headquartered in the Bay Area utility locating, concrete scanning, and cathodic protection services are their specialty. EXARO's skilled technicians specialize in locating underground utilities to prevent costly problems like re-design, construction change orders, project delays, and catastrophic events. Their utility locating capabilities include electronic detection, ground penetrating radar, and vacuum excavation. The EXARO team has performed utility locating services in all types of facilities including airports, hospitals, electric transmission and distribution substations, gas plant terminals, commercial facilities, residential, public streets and highways, and public transit facilities from Northern to Southern California The EXARO team has performed concrete rebar scanning in the Bay Area with ground penetrating radar (GPR) in all types of facilities including airports, hospitals, commercial facilities, residential, and public transit facilities. EXARO's cathodic protection method minimizes disruption to surroundings by maintaining a minimal diameter work-hole. The EXARO team is setting a new standard in "Delivering Excellence with a Sense of Urgency at Competitive Pricing". http://www.exarotec.com
# # #