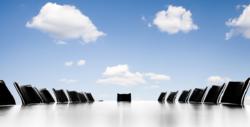 happy people work harder
London (PRWEB UK) 8 May 2011
Although the belief that "happy people work harder" has been circulating as common knowledge for some time now, it's tempting to dismiss the proposition of fruit-bowls & a fresh colour scheme as an expensive pop-psychology distraction. Recent investigation, carried out on behalf of Grosvenor Workspace Solutions, found definite, independently correlated evidence that even basic alterations can boost employee output by as much as 12%, while a well-planned office refurbishment can resurrect a failing new business department, or greatly improve the odds of client retention.
Simply reorganising a workspace can save companies an annual £1000 per employee - just by decreasing the time people spend rummaging through defunct clutter for whatever they need to get on with the next task.
A study conducted by Management Today magazine found that 97% of employees see a direct connection between the quality of their workplace & how much they are valued by their employer. Yet only 37% of these respondents thought their own office was designed "with people in mind". The problem extended beyond the cubicles, too; more than 33% of respondents were "too ashamed" to invite clients to their office.
This is a dangerous mindset. Even your most positive, hard-working staff-members will eventually lose hope if they feel consistently undervalued. Productivity drops as attentions wander to personal futures, CV writing & general speculation. Staff turnover drifts inevitably upwards, along with increased HR costs invoked by new hires & training.
At best, insufficient provision for on-site client meetings causes excess spending on external meeting space, be it restaurant tables or hired rooms. At worst, new business generation declines, & existing clients who do see their supplier's shabby office become uncertain about that company's expertise & reliability. They end up moving to more successful competitor.
Scientifically controlled tests carried out by Warwick Business School's Economics team found that happy workers were 12% more productive than normal, while productivity fell by 10% in unhappy workers, despite every worker being paid exactly the same fee to undertake their task.
Wage raises aren't easily undone without making morale-crushing redundancies. Issuing bonuses will set a precedent which, if they're not offered regularly, can result in disappointment, doubts about the company's future, & a plunge in morale which demands financial outlay anyway, be it bar tabs or that HR cost spike, generated by high staff turnover.
An intelligent office refurbishment can provide a far longer-lasting, sustained-release remedy, with no need for it to be expensive.
Existing furniture and resources can be re-purposed. Parts of the office may currently be under-utilised - a service like Grosvenor's workspace appraisal can easily reduce ongoing building rental & facilities maintenance costs.
Energy-efficient fittings & decent insulation can knock zeros off overheads. Extreme or fluctuating office climate can be a major employee distraction, & often a source of conflict, too; even getting the temperature right can shift their focus from blankets or beaches to revenue generation.
Just like investing your last £100 on the new suit that helps you win that crucial job, an office refurbishment can turn an organisation's fortunes around. However optimistic a company's financial outlook, the chance to significantly boost employees' output & morale - without raising wages, or even issuing bonuses - should certainly not be overlooked.
The experts at Grosvenor Workspace Solutions recommend scheduling any major refurbishment work during the warmer months, when more staff members are likely to be out of the office on holiday, & windows can be left open for ventilation.
###