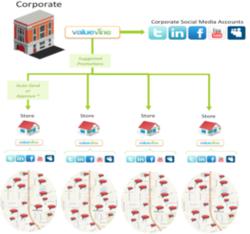 Valuevine enables us to take social local. It is a highly targeted tool that is a win win for consumer and retailer.
Sydney, NSW (PRWEB) May 05, 2011
The Valuevine platform is a geo-location social media distribution tool, backed with sophisticated analytics that mines data to specific locations where consumers are, using advanced mapping tools.
Valuevine enables organisations to engage in social media in a highly targeted way and takes the sweat and effort out of distributing social media content. The platform identifies consumers by their location and what they are saying on social sites. It enables companies to send highly targeted messages in response and drive consumers directly in-store within a short distance from where the consumer is located.
Valuevine takes away the challenge for Corporate Headquarters when trying to manage local area marketing across a number of retail outlets or franchisees. Corporate HQ can take complete control or give partial / total control to local outlets to send social media content and messages to consumers. With this added ability, marketers can view consumer reaction's and then track their conversion, showing which social campaigns work best, through a collaborative activity feed across all locations.
With a powerful analytics suite behind the platform, Valuevine provides geo-location social media research and data to plan local area social media marketing campaigns.
Bendalls Group has confidentially been piloting the system with a number of their corporate clients before announcing the national launch today.
Fi Bendall, Managing Director, Bendalls Group said, "We are really excited to be working with the Valuevine team in the USA. In Australia, we are constantly approached by businesses asking us how to implement social media.. Valuevine enables us to take social local. It is a highly targeted tool that is a win win for consumer and retailer. The consumer only gets a message, offer or content, when they are talking about / asking across their social networks about the subject / product. The marketer sends social messages that are relevant to the consumer and therefore more likely to drive an action to sale, using Valuevine at a highly cost effective entry price, that delivers visible ROI".
CEO, Valuevine Inc, Neil Crist added, "We believe there is growth and innovation opportunities in Australia and the wider Asia Pacific market as social media has become mainstream media. The strategic key for Australia, as in the USA is local-based social media works better than trying a mass-market approach, which doesn't drive sales and often consumers don't want to be a brand's friend! Bendalls Group has provided us with a strategic ally in the Asia Pacific market to bring best practice to social media content distribution, social research and ROI tracking. We are looking forward to a long mutually beneficial relationship as we launch more features to the Valuevine suite of products".
Editors Notes:
About Bendalls Group:
http://www.bendalls.com.au
The Bendalls Group is a million dollar consulting business that specialises in developing the commercial aspects of digital strategy for enterprises. They are pioneers in digital business strategy and one of Australia's most respected thought leaders in this space. Bendalls lead change management for the digital landscape. They educate, enable and align businesses at the board level creating holistic change across a company to maximise opportunities and reduce risk. The sister business to Bendalls Group is Digital Intelligence, a team of highly sought after digital specialists, i-media subject matter experts and developers. Services through this organization are by custom invitation only.
About Valuevine:
Valuevine helps multi-location organizations better measure and manage location-based community marketing efforts. In 2009 Valuevine launched the first social media-marketing platform for retail chains, restaurant chains, and franchises. Today, corporate marketing teams, including nearly 5% of the franchise market, broadly use this market-leading product.
In 2011, Valuevine expanded their technology offering, and launched a groundbreaking location-based analytics product that provides multi-locations with deep insight into customer experience, sentiment, trends, and the overall health of their locations. Today, Valuevine's analytics and marketing platforms are used by some of the most well-known consumer brands.
Valuevine is based just outside of Seattle, Washington and is led by executives Neil Crist, James Gallagher and Pete Mannix.
Contacts:
For further information:
PR: Emily Zwolinski (02) 8415 9999 or 0423 158 028, emily at bendalls.com.au
Sales: Duncan Bendall (02) 8415 9999 or 0421 787 364, duncan at bendalls.com.au
# # #