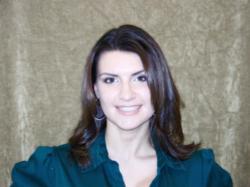 "Bianca's commitment to bettering the lives of military families through her extensive volunteer work has inspired us all," said Babette Maxwell, co-founder and Executive Editor of Military Spouse Magazine
Washington, DC (PRWEB) May 05, 2011
Mrs. Bianca Strzalkowski was named the recipient of the 2011 Military Spouse of the Year award today in recognition of her commitment to the military community, including her active duty Marine Corps husband Gunnery Sgt. Ronald Strzalkowski, and her ongoing volunteer work and community contributions. Mrs. Strzalkowski, 31, of Fuquay Varina, N.C., was chosen from hundreds of nominees from around the world. She has been a military wife for 9 years and is currently based at Recruiting Station Raleigh.
Strzalkowski was nominated by her mother and also by a friend, who praise her for doing so much to help military families. She is a mother of three and full-time student, and also frequently volunteers. She is the sole volunteer for Recruiting Station Raleigh's Family Readiness Program, has organized workshops and initiated programs including a Meals Program for New Moms and training to help spouses understand the recruiting lifestyle. She has created a unit-specific newsletter, spoken at other recruiting stations about the benefits of a strong Family Readiness program, and traveled throughout the East Coast as a LINKS mentor. She has also served as a Key Volunteer and Key Volunteer Coordinator to combat deploying units.
The award was presented by Mrs. Lori Bell, who served as 2010 Military Spouse of the Year, and by Col. Thomas A. Dials, USA (Ret.), chairman of the board of directors of Armed Forces Insurance, at a luncheon hosted by Military Spouse magazine and sponsored by Armed Forces Insurance.
Col. Dials praised military spouses like Mrs. Strzalkowski and her fellow branch winners, pointing out that their role has become increasingly vital.
"In the nearly forty years since the end of the Vietnam War, the manning, training and equipping of a professional all-volunteer force, augmented with the concurrent and increasingly focused emphasis on 'family' by the leadership in all the services, has produced perhaps the most significant change to military culture in generations," says Col. Dials. "This extended evolution is not an end- state but a work in progress. It now stretches beyond the boundaries of the nuclear family; no longer do spouses and family members need sit alone waiting for the return of a deployed service member. For many the unit has become the family. That doesn't happen by accident, nor does it happen without a great deal of dedication and effort, and that is why it is so important to honor the critical role the military spouse has played in bringing about this transformation. Wes Fessler, a contemporary author, brings perspective on this that I find particularly appropriate to the military spouse: 'I will never make my family perfect, but I will make it better every day.' They do. And we honor their efforts."
Babette Maxwell, co-founder and executive editor of Military Spouse magazine, offered this appraisal of Mrs. Strzalkowski: "Bianca's commitment to bettering the lives of military families through her extensive volunteer work has inspired us all," said Maxwell. "In recent years, she has been reaching out to spouses throughout the East Coast, offering valuable support and guidance. We're excited to see the impact she'll have on military families nationwide as the 2011 Military Spouse of the Year."
From the pool of nominees, one winner was chosen from each branch. In addition to Mrs. Strzalkowski, who was named Marine Corps Spouse of the Year, Mrs. Crystal Cavalier was named Army Spouse of the Year. The 2011 Air Force Spouse of the Year is Mrs. Megan Glynn and Mrs. Laura Vanderwerf is this year's Coast Guard Spouse of the Year. And Navy spouse Robert Duncan is the first former Marine Corps sniper to be named Spouse of the Year. His wife, formerly Army, is now active-duty Navy, and their only child is off to Air Force boot camp this summer.
All five branch winners exemplify the values cherished by the military spouse community: service, sacrifice, love of family and patriotism. The branch winners and their families were honored at the Washington ceremony and will represent their respective branches throughout the year.
Dave McIntyre, CEO of Triwest Healthcare Alliance, also offered praise for the Spouse of the Year nominees and winners: "We have the privilege of serving military families in the West, and we are amazed each day by the remarkable courage, sacrifice and commitment of all the spouses we work alongside and support," he said. "We are pleased to have the opportunity to recognize these amazing Military Spouses of the Year, especially as they represent thousands of other military spouses around the world who may not wear a uniform, but are providing dedicated service to the nation in their own quiet and effective way."
In addition to many members of the House and Senate (including The Honorable Sanford D. Bishop (D-GA 2nd),
The Honorable Marsha Blackburn (T-TN 7th), The Honorable John Boozman (R-AR), The Honorable Ann Marie Buerkle (R-NY 25th), The Honorable Richard Burr (R-NC), The Honorable Howard Coble, (R-NC 6th), The Honorable Rick Crawford (R-AR 1st), The Honorable John Dingell (D-MI 15th), The Honorable Kay Hagan (D-NC), The Honorable Larry Kissell (D-NC 8th), The Honorable Cathy McMorris Rodgers (R-WA 5th), and The Honorable Todd R. Platts (R-PA 19th), the award ceremony drew numerous VIPs to honor the military spouses. They included: General Philip Breedlove, Vice Chief of Staff of the Air Force, and his wife Cindy Breedlove, Vice Admiral Sally Brice-O'Hara, Vice Commandant of the Coast Guard, and her husband Robert O'Hara, Admiral Jonathan W. Greenert, Vice Chief of Naval Operations, and his wife Darleen Greenert, MCPON Rick D. West, Master Chief Petty Officer of the Navy and his wife Bobbi West, Bonnie Amos, Spouse of General James Amos, Commandant of the Marine Corps, Sheila Casey, Spouse of General George Casey, Former Chief of Staff of the Army, Deanie Dempsey, Spouse of General Martin Dempsey, Chief of Staff of the Army, Judy Benishek, Spouse of Congressman Dan Benishek, Deborah Bonito, Spouse of Senator Mark Begich, USAF, Jeanne Chandler, Spouse of SMA Raymond F. Chandler III, USA, Debbie Dingell, Spouse of Representative John Dingell (D-MI 15th), Jill Donnelly, Spouse of Congressman Joseph Donnelly (D-IN 2nd), Elizabeth Kent, Spouse of SMMC Carlton Kent, USMC, Debbie Leavitt, Spouse of MCPOCG Michael Leavit, USCGR, USCG, Karen Preston, Spouse of SMA Kenneth Preston, USA, Carolina Reyes, Spouse of Congressman Silvestre Reyes (D-TX 16th), Vivien Scott, Spouse of Congressman Austin Scott, Paula Roy, Spouse of CMSAF James Roy, USAF.
The 2011 Military Spouse of the Year award and ceremony are sponsored by Armed Forces Insurance. For more information, please visit http://www.milspouse.com/msoy.
About Military Spouse:
Military Spouse magazine is the leading national magazine for the nation's 1.1 million current and 20 million former military spouses. This monthly, high-gloss print publication serves as a resource for spouses to cope with and celebrate their unique lifestyle. Military Spouse encourages an aspirational lifestyle with relevant and entertaining articles about their world, including stories about job opportunities, parenting, health and fitness, relationships and family, and dealing with challenges like deployment. The magazine is owned by Victory Media Inc., which also publishes G.I. Jobs (http://www.gijobs.com), the Guide to Military Friendly Schools (http://www.militaryfriendlyschools.com) and Vetrepreneur (http://www.navoba.com).
About Armed Forces Insurance:
AFI was founded in 1887 by military leaders with a single mission: to protect the people who protect our nation. The company provides premium quality, competitively-priced property and casualty insurance to military professionals throughout the United States and overseas. Headquartered in Leavenworth, Kansas, AFI understands that military members have unique circumstances and insurance needs, enabling the company to offer a level of personalized service that's unequaled in the industry. For more information, visit the Web site at http://www.afi.org or call 1-800-495-8234.
###