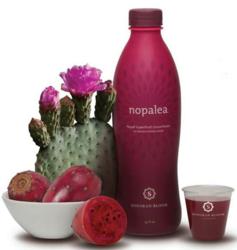 Scottsdale, AZ (PRWEB) May 31, 2011
Nopalea™ by TriVita® is a breatkthrough, natural anti-inflammatory wellness drink that contains nutrients scientifically proven to help the body reduce inflammation; people who have consistently taken Nopalea have reported a wide range of benefits, including joint pain relief.
In a recent survey, 30 percent of adults reported that they experienced joint pain in the 30 days before the survey: knee joint pain, shoulder joint pain, finger joint pain or hip joint pain. Joint pain may be caused by inflammation of the tissue lining the joints or by injury, diseases, prolonged abnormal posture, sprains, strains or repetitive motion. All of these may result in the symptoms of inflammation which include redness, heat, swelling and pain.
In addition to physical pain, joint pain can also take an emotional toll, reducing life satisfaction and people's sense of productivity. Everyday tasks can become difficult and even painful. This can result in disability and limit what can be accomplished at the workplace. This in turn, this can lead to depression, anxiety and feelings of helplessness.
Many people turn to an over the counter joint pain relief, such as a non-steroidal anti-inflammatory drug, which works by blocking substances called prostaglandins that contribute to inflammation and pain. These drugs may provide short-term relief of joint pain and stiffness but can lead to side effects that range from inconvenient to deadly: heart attack, stroke, bleeding and ulcers in the stomach and intestines, high blood pressure, kidney problems, anemia, stomach pain, constipation, diarrhea and more.
Nopalea, a delicious anti-inflammatory wellness drink, can help the body reduce inflammation while avoiding the side effects of prescription and over the counter pain relievers. Nopalea contains anti-inflammatory nutrients sourced from the fruit of the Nopal cactus that can help the body reduce inflammation, one of the major causes of joint pain.
Those suffering from any type of joint pain and stiffness – finger joint pain, thumb joint pain, hand joint pain, wrist joint pain, hip joint pain, knee joint pain, elbow joint pain – owe it to themselves to try to find joint pain relief. Natural relief without the side effects often seen in those using an over the counter pain reliever or prescription medication.
TriVita launched Nopalea in June 2009, and it has since become their best-selling product. TriVita is a Scottsdale-based wellness company that encourages people everywhere to experience wellness®: physically, emotionally and spiritually. Learn more about Nopalea at nopalea.com.
These statements have not been evaluated by the Food and Drug Administration. This product is not intended to diagnose, treat, cure or prevent any disease. Children, women who are pregnant or nursing, and all individuals allergic to any foods or ingredients should consult their healthcare provider before using this product. You should not stop taking any medication without first consulting with a healthcare provider.
# # #