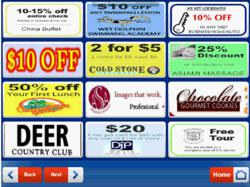 Businesses and Consumers To Profit From HiringBox Coupons
MIami, FL (PRWEB) May 06, 2011
An exciting and new concept in the coupon industry, the HiringBox combines job search efforts with local business discounts via free and easy to print coupons.
With many individuals across the Miami and Dade & Broward County areas still struggling with the harsh realities of the U.S. economy, many have begun to turn to the amply located HiringBox kiosks to find a job and save money while doing it. With an abundance of Miami residents already taking advantage of the hundreds of free coupon deals offered by local businesses, people are saving money by using local coupons that are relevant to their everyday needs.
As the world of clipping coupons has changed over the last few years, the HiringBox has developed and deployed an innovative technique to tackle a dual purpose: assist people in finding work while saving money through local business coupons.
With an easy to navigate website and conveniently located kiosks all over the Miami area, people can print coupons for local services in a matter of seconds. Easy to print and more importantly, a free service, individuals searching for jobs via the HiringBox have access to hundreds of coupons pertaining to a wide variety of services within their area.
Not limited to just job seekers, any individual or family who wants to utilize the HiringBox website or kiosks for coupons is welcome to do so. As most coupons are for nearby businesses, they can be used right away and with the HiringBox's unique search features, people can search for coupons by categories that apply to them. With offers and promotions from dentists, restaurants, auto-shops, daycare, medical services and more, anyone who is on a budget, (which seems to be most of us these days) or looking to save some money will find what they are looking for with local coupon promotions from HiringBox.
Not only are locals embracing HiringBox coupons, but businesses and advertisers are jumping on the chance to promote their business by offering coupons. With advertisers paying the costs associated with keeping the HiringBox free for users and businesses, individuals need not subscribe or pay to use the job search or coupon service.
Whether people are looking for an immediate discount to save money on car repairs with their local auto body shop, or want to dine out with friends at their favorite restaurant, coupons from the HiringBox are a great alternative to the limited offers that many coupon discounts provide. Whether used immediately or saved for later, local businesses in the Miami area are embracing the unique advantage that the HiringBox offers and parlaying that into incredible discounts for customers.
###