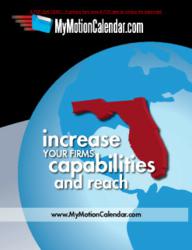 Having experienced, local foreclosure counsel who know the local rules and judges has been extremely valuable to our practice,
Miami, FL (PRWEB) May 09, 2011
MyMotionCalendar.com, the Florida-based provider of coverage attorneys throughout the US for foreclosure firms, is requiring its attorneys to take foreclosure continuing legal education courses (CLE's).
"Requiring our coverage attorneys to take foreclosure CLE's reflects our company's commitment to making sure our coverage attorneys do an excellent job representing our clients locally. They are an extension and representative of that firm, so it's important that we set the standards and expectations appropriately high," said Jonathan Broder, President of MyMotionCalendar.com. "Our attorneys are already well-versed in foreclosure, but we want to continue to educate our attorneys, and make sure they keep abreast of new trends and case law. Everyone needs a good reminder that the Rules of Civil Procedure have not been supplanted by the 'Rules of Foreclosure Civil Procedure.'"
The company is requiring attorneys throughout the country that are part of its network to comply with its new CLE requirements by the end of June, 2011,
MyMotionCalendar.com's network of attorneys covers thousands of foreclosure hearings, sales and mediations a week on behalf of their clients. Broder, a lawyer himself, founded the company and has directed its growth from Florida to Ohio, Illinois, New Jersey, New York and beyond. "We go where our clients tell us they need us. We're continuing to expand into new markets," said Broder.
The company can be found at http://www.mymotioncalendar.com, info(at)mymotioncalendar(dot)com, or 1-877-670-6776.
###