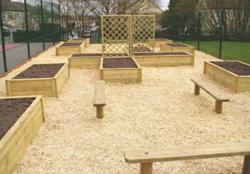 Risk in any school trip or activity should be recognised, assessed and managed, rather than avoided
Bolton, Lancashire (PRWEB) May 06, 2011
Recent research by the Association of Teachers and Lecturers reveals that 1 in 6 schools have banned traditional playground games such as leapfrog and conkers due to health and safety concerns, suggesting over-protective teachers being the primary cause.
Bolton business owner Robin Harwood, provider of school playground equipment and wooden climbing structures, remarks that the banning of such games by schools seems heavy-handed. 'An essential part of a child's development is achieved by play, but by limiting those experiences you may be affecting them in the long-term.'
The age old game of conkers instilled fears in staff that children could suffer injures or trigger a nut allergy, despite the seeds technically not being nuts at all. This was originally reported in 2004, when an un-named head teacher purchased goggles for the children to wear whilst competing.
This was then referred to on the radio waves, as Radio 1 presenters started their own Conker Championships and on television's Top Gear, when a game replacing conkers with two caravans suspended on cranes was staged. 'I now feel perfectly happy about being hit in the face with a caravan!' said presenter James May after donning a pair of safety goggles.
The programme then wrongly stated that the wearing of goggles to play conkers was the result of a ruling by the official Health & Safety (HSE) Executive, who then replied that their involvement was a myth and the schools themselves had initiated the precautions independently. The HSE then sponsored a conkers tournament to promote their involvement.
Robin Harwood, of climbing frame suppliers Playground Imagineering, has worked alongside the education industry for a number of years. 'The widely held belief is that some schools believed that aside from the obvious potential injuries, children who had a nut allergy could possibly trigger it off. Conkers are in fact seeds, not nuts. I understand that when caring for the wellbeing of children that safety is paramount, but surely this level of protection is going overboard?'
In the 2011 report carried out by the Association of Teachers and Lecturers, 9% have banned leapfrog, 14% outlawed conkers and 29% prohibited British bulldog, whilst a further 5% revealed that marbles and 'chasing games', like tig, had also been vetoed. A secondary school teacher was quoted as saying: 'Bulldog is banned because of the number of broken bones it generates.' The trend, highlighted by the survey of 653 teachers and support staff, includes the widespread belief that an increase in parents who sue and 'red-tape bureaucracy' was to blame.
The Former Director of the Children's Play Council at the National Children's Bureau, commented that schools have 'forgotten how to give children a good childhood,' adding that teachers feeling constricted through this percepted 'red-tape' are confused as 'bureaucracy barriers are not as great as they think they are. Bumps and scrapes and dealing with life's trials are part and parcel of growing into a confident and resilient person. You can only learn through experience.'
Robin Harwood and his business are school playground designers, fitting school playground equipment and playground markings to maximise parks and playgrounds across the country.'School playground equipment provides different terrains, tunnels, climbing bars and platforms, adding variety to an urban landscape, such as a school in the city which is limited for space.
The installation of playground markings dictates how an area can be used. At Playground Imagineering, safety is the key to success. Whatever playground antics are being discouraged, there are always new games to play with modern apparatus, especially when schools trips are now a dying trend too.'
The Association of Teachers and Lecturers research reveal more about staff's reluctance to let children play and thus enrich their physical and mental development. Safety fears, funding, lack of time and paperwork are the root cause of less school trips. 15% of staff questioned for the study revealed fewer playground games and sport were played than three years ago, with over 55% naming child safety as the primary concern. 42% identified the risk of litigation as the result of a parent suing over a child's injuries, and 57% of staff confirmed that there is a growing trend of 'risk aversion' in the education system.
'Risk in any school trip or activity should be recognised, assessed and managed, rather than avoided,' says General Secretary of the Association of Teachers and Lecturers, Dr Mary Bousted. 'Young people are often less safe when there is an adult saying 'be careful'- they then don't trust their own instincts.'
Dr Mary Bousted, general secretary of the Association of Teachers and Lecturers, said: 'Risk in any school trip or activity should be recognised, assessed and managed, rather than avoided. Interestingly, Peter Cornall of the Royal Society for the Prevention of Accidents commented that an increasing number of children are in fact allergic to conkers, but not because they have known allergens. Because fewer children play outside, he claims, they are not developing immunity to the germs that may be on them, adding 'Teachers are taking matters too far.'
'Playing conkers on a wet Autumnal afternoon didn't do children any harm or long term damage thirty years ago, and I don't honestly think it's a dangerous past-time which must be prohibited. On the whole, I think we all agree that more children do need to play outside, interact with each other, experience their surroundings and develop themselves,' says Robin Harwood. 'Some children do need gentle encouragement and need coaxing out of their indoor comfort zones to go and experience the great outdoors, but that's only to be expected. Well thought-out and imaginative playground furniture encourages that enthusiasm.'
For playground storage, and playground markings, visit playground imagineering
This Press Release is part of an SEO campaign by Vizcom. For more information, please click Search Engine Optimisation Manchester
###