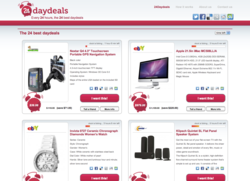 If you weren't on the right site at the right time, you'd completely miss these deals
Long Island City, NY (PRWEB) May 11, 2011
24Daydeals.com is a start-up that gives a new kind of overview on daily deals. Due to the launch of many 'one deal a day' sites, it became hard to keep track of them all. That's why Mark Duppen, founder of 24Daydeals, came up with a clear overview of daily deals.
In 2004 Matt Rutledge launched Woot.com. Woot.com is the pioneer of the popular 'one deal a day' business model. They offer just a few products a day in limited quantities with a new product appearing daily at a given time against a very attractive price. Seven years later they have 3.2 million monthly visitors and over 1.6 million followers on Twitter.
Over the past few years, a lot of these 'one deal a day' sites have popped up on the web. People are overwhelmed with all those daily deals, making it hard to keep track of them all. And who has time to sift through hundreds of sites a day? Psychologist Barry Schwartz calls it the Paradox of Choice. With so many choices to choose from, people find it hard to choose at all. Increasing people's choices made their decision more difficult, not easier.
The new start-up, 24Daydeals.com, solves this problem. Every day, they feature 24 daydeals. These deals come from well-known retailers like Sears, eBay and Dell. But sites like Woot and Dailysteals are included as well. They show a variety of products like electronics, household items, clothing and jewelry. The deals are national and can be ordered online, so there is no driving or waiting in line.
Mark Duppen says: "The number 24 is very important to us; one thing we didn't want to do was add all those daily deals and give an information overload. A day has 24 hours and should contain 24 deals. No more, no less." He adds, "This growing market needs an overview site to keep it clear, it helps me to find daily deals and I hope it does the same to others." Kris Ashton from DailyDealMedia mentions the uniqueness of 24Daydeals saying, "If you weren't on the right site at the right time, you'd completely miss these deals."
For more information, visit http://www.24daydeals.com
About 24Daydeals
24Daydeals is a start-up that launched early 2011. Every 24 hours, they give a one-stop overview of the 24 best daily deals. Its pillars are simplicity, clarity and quality. 24Daydeals focuses on tangible daily deals in the US market.
# # #