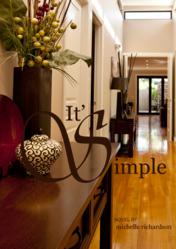 Sometimes life is simply a journey of rediscovery.
New York, New York (PRWEB) May 06, 2011
Living on opposite coasts, Chase and Tia are from dramatically different backgrounds, which epitomize the makings of an ill-fated relationship. After all, what could a celebrity NBA star and budding attorney deeply entrenched in the national political scene have in common?
Author Michelle Richardson is proud to announce the release of her grippingly realistic debut novel "It's Simple." Best friends and lovers, Chase and Tia provide a unique look at how their choices impact their journey; offering a truthful and sometimes painful rendering of real life scenarios and how two fiercely driven and stubborn lovers choose to handle them.
"Shifting slightly, he placed a finger under her chin forcing her to make eye contact with him. What he saw in her eyes squeezed his heart. On the surface he saw and felt her pain. This trip had further strengthened their bond and neither one of them was looking forward to the day they would have to say goodbye. Leaning down, he kissed her lips. "We need to talk about this Tia." Shaking her head and removing his hand from her face, she placed her head on his chest. "No, we don't. Not right now. We have time. You're not leaving for another three days." She placed her hand on his stomach and slowly stroked him."
The read will not be a traditional one. Richardson's novel takes conventional relationships and turns them right side up allowing the reader to view life and relationships from a different perspective—a refreshing look at the possibilities.
While accompanying Chase and Tia on their journey, the reader not only glimpses their lives and those in their circle of influence, but also takes a transformative look at their own. After peeling back the layers of all relationships, most struggles are universally the same.
About The Author
Michelle Richardson born in Brooklyn, New York, now lives in Long Island with her husband, their two kids, and a prissy powder puff pomeranian named Madison. Richardson is currently writing the sequel to "It's Simple." Visit the author online at http://www.michellerichardson.co.
To schedule an interview with the author or receive a review copy of "It's Simple," contact Nicole George-Richardson at 631.626.3720.
April 2011 | $22.95 | Softcover | ISDN: 978-1-4620-0909-1
April 2011 | $9.99 | e-book | ISDN: 978-14620-0910-7
###