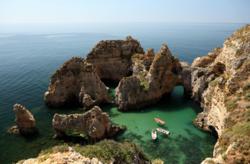 (PRWEB UK) 6 May 2011
Guests staying in the popular Algarve villas region of Portugal will be in for a treat this summer, at the upcoming International Algarve Fair on the 4th and 5th of June at the FATACIL arena and exhibition grounds in Lagoa, as the Algarve Wine Show is back by popular demand.
The free event will showcase every type of wine, from small, little-known family-run independent vineyards to some of the largest distributers in the Algarve. Guests staying at some of the regions most exclusive resorts like Monte da Quinta Suites and Four Seasons Country Club can spend a day sampling the different flavours and even take home a bottle of their favourite wine.
Portugal is world famous for its long-standing wine-making tradition, and this beautiful European country has some unique flavours and varieties that cannot be found anywhere else in the world.
The people of Portugal put a great deal of passion into their wine making, and the difference in taste is noticeable. The Portuguese wine tradition goes back to the ancient civilizations such as the Phoenicians, Carthaginians, Greeks and even the Romans. The Douro Valley Wine Region in Portugal is considered to be the first wine-producing region in history, and is officially a UNESCO World Heritage site.
There are quite a wide variety of grapes that grow naturally in Portugal, which makes for a great selection of wines. The different soils and micro-climates throughout the country also have an impact on the taste of the grapes which produces many distinctive wines.
Portugal is also famous for Port wine, which is a fortified wine that is typically sweet and served at the end of the meal as a dessert wine. Although fortified wines in this style are produced in Australia, Canada, USA, South Africa, India, and Argentina, only the ones made in Portugal can be officially labelled "Port".
There is a strong tradition of wine making in the Algarve, and the wines produced in this region are consistently of a high quality. One of the most widely acclaimed wine producers, Adega Cooperative de Lagoa, was established in 1944 and has become a strong symbol of Portugal. Adega Cooperative de Lagoa will bring some of their local Lagoa wines to the Wine Show this year, so that visitors can taste the delicious and sophisticated palate of flavours. Other regional Algarve producers who will be showing off their products at the Wine Show will be Quinta Joao and Monte da Casteleja.
The Wine Show is only a small part of a massive event that is held every year, the International Algarve Fair. A popular attraction for guests staying at the Monte da Quinta Suites and other resorts, the fair is held in Lagoa and features over 170 exhibitors including a Car Show, Real Estate services, Arts and Crafts, Health and Beauty and much more. There is also a live entertainment line-up for the fair which includes the Algarve Dog Show. The Arena also has 11 restaurants and a children's area with face painting, clowns and rides. Last year the event attracted 11,000 visitors over two days.
The Wine Show at the International Algarve Fair gives visitors a chance to sample the delicious wines that have their origins in Portugal's sun-drenched vineyards, as well as enjoy other entertainment and exhibitions during this family friendly two day event.
Information For Editors
Select Resorts
Telephone: +44 (0)1202 786490
Established in 1982, Select Resorts is a leading villa holiday operator based in Dorset (UK). For over 25 years they have offered guests handpicked, quality accommodation, in some of the most premium resort destinations all over the world.
# # #