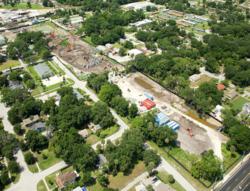 According to the EPA report, this is the "largest completed environmental on-site stabilization project in the United States" to date.
Sanford, FL (PRWEB) May 05, 2011
This month, the U.S. Environmental Protection Agency (EPA) released a report highlighting an environmental remediation project at a former manufactured gasification plant (MGP) in Sanford, FL, where environmental and contamination concerns prompted remediation and clean-up efforts beginning in December 2009.
The report specifically recognized WRScompass and other companies leading the remediation efforts for their implementation of green remediation practices at the Sanford MGP site. The green remediation practices included the use of renewable fuels, minimizing water use and impacts to water resources, minimizing total energy use, reuse and reduction of materials and waste, and utilizing more sustainable construction materials. These practices minimized air pollutants and greenhouse gas emissions, shortened the length of cleanup activities by approximately one year, and benefited the local economy by acquiring local labor and supplies.
According to the EPA report, this is the "largest completed environmental on-site stabilization project in the United States" to date. The project stabilized more than 142,000 cubic yards of soil and restored more than 2300 feet of creek bed.
As the lead remedial construction contractor on site, WRScompass "voluntarily adopted and implemented greener best management practices that reduced the environmental carbon footprint resulting from cleanup activities in addition to other benefits."
"The Sanford remediation project is an exciting and important opportunity for WRScompass to continue our commitment to being a responsible community partner and a good steward of our environmental future, a goal we help all of our clients achieve," said Kathleen Shanahan, Chair and CEO of WRScompass, "We are proud of and appreciate the U.S. EPA's recognition of our efforts on this project."
With over 27 years of experience, and a highly skilled technical and professional workforce of 450, WRScompass is uniquely qualified to tackle environmental challenges such as the Sanford MGP remediation project. Three years ago, WRScompass created a cleanNgreen sustainable construction program in order to better identify efficiencies and develop practices to maximize customer value and the net environmental benefit on projects.
WRScompass has become known for their ability to provide efficient solutions to a wide-ranging number of environmental challenges, while providing outstanding customer service and also being recognized nationally for maintaining high safety and accident prevention standards.
"WRScompass believes that integrating more sustainable practices and resources on our projects is a priority and a philosophy that will help change the landscape of our nation and pave the way to both a healthy environment and vibrant economy. For instance, by implementing our cleanNgreen practices at Sanford, we reduced our CO2 emissions by 13,877 tons, an equivalent of 6,860 barrels of oil, at no additional costs." said WRScompass Vice President and Chief Sustainability Officer, Mark Fleri.
He adds, "The collaborative efforts of the U.S. EPA Region IV, the remedial oversight contractor Natural Resources Technology (NRT) Inc, and WRScompass has resulted in a cleaner and more sustainable result."
Other notable sustainable metrics of the project are 3.7 million gallons of water were recycled and over 1,600 cubic yards of trees and stumps were chipped and given to local landscaping companies diverting the waste from landfills.
About WRScompass
WRS Infrastructure & Environment, Inc. d/b/a WRScompass has over 27 years of experience in the environmental remediation, geotechnical and civil construction industry. The company employs an experienced, highly skilled technical and professional workforce of over 450. With a nationally recognized safety program and cleanNgreen sustainable remediation initiative, WRScompass offers its customers the dynamic and reliable team they need.
Please visit http://www.wrscompass.com for more information.
###