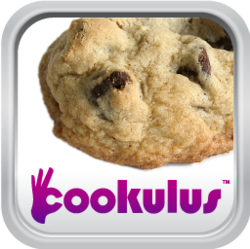 Cookulus may be the most revolutionary development in cooking since the measuring cup!
Philadelphia, PA (PRWEB) May 10, 2011
Is the ultimate chocolate chip cookie crisp and chewy? Soft and thick? At Cookulus™ (rhymes with "calculus") the ultimate recipe is the one that lets the cook make it exactly her way: soft or crispy, chewy or crumbly, thin or thick, decadently chocolate or wholesomely whole wheat. Move the sliders on the app's control panel and ingredient amounts shift, the oven temperature rises or lowers, and the cooking time lengthens or shortens -- a completely individualized recipe is ready for baking.
Today Cookulus, LLC announces the release of their first Ultimate Recipes app for Apple's iPad and iPhone: Cookulus: Ultimate Chocolate Chip Cookie.
Cookulus: Ultimate Chocolate Chip Cookie comes with four adjustable master recipes: Classic, Chocolate, Walnut, and Whole Wheat, all for $0.99. With a possible 1300 unique recipes within each ultimate master recipe, that's 5200 unique recipes for perfect chocolate chip cookies. Once a unique recipe is saved (iPad version only) it can be modified, notated, or sent to a friend. Touch any ingredient or highlighted phrase in the recipe and a window full of in-depth information appears. Set recipe yields with the yield adjuster. Choose the way you want your ingredients measured – by weight or volume, American or metric measurements.
A free lite version, Cookulus: Soft & Chewy Chocolate Chip Cookie gives all of the features of the full version but for only one adjustable recipe. Cookies can be set for level of chewiness, level of softness, and a limited range of thinness and thickness.
And the proof is in the eating. When Joe Yonan, food editor of the Washington Post tried baking a few batches of Cookulus Chocolate Chip Cookies he was amazed. "When I went for something pretty soft and chewy but a little thin, and made the recipe, that's exactly what I got…. Cookulus is an addictively powerful (or is it powerfully addictive?) way to geek out on a recipe. But even better, it works like a charm."
Early on in its development, award-winning cookbook author and the culinary force behind Cookulus recipes, Andrew Schloss wasn't convinced. "At one point the algorithm told me to bake thin and crispy cookies at 260 degrees for 45 minutes. I knew it had to be wrong because no cookie bakes that long. And then 45 minutes later, they emerged from the oven thin, crisp and golden brown, and I thought, 'Wow, this works,' even though the algorithm told me to do something that as a professional cook I never would have done."
Max Minkoff, the key inventor of Cookulus has experienced the same sense of wonder, "With Cookulus Ultimate Recipe apps we have brought something truly new to recipes. Not just another way to file recipes, or access to a library of unknown recipes, but a technology that gives anyone the ability to make food exactly their way. Cookulus may be the most revolutionary development in cooking since the measuring cup!"
# # #