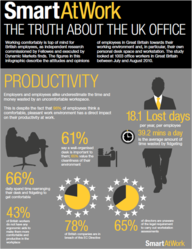 Doncaster, UK (PRWEB UK) 10 May 2011
In 2010, 1.3 million people suffered from an illness they believed was caused by or made worse by their work, according to the Health and Safety Executive, the UK's national regulator for workplace health and safety. Separate research conducted by Fellowes, the leading supplier of workspace solutions, found that 64% of British workers have suffered from injury and sickness because of an uncomfortable workspace.
This means there is a large number of people who are being made unnecessarily ill by their workplace and the economic impact of it is huge: 28.5 million working days were lost overall during that period (1.2 days per worker), 23.4 million due to work-related ill health and 5.1 million due to workplace injury.
Also, it's not just time off that is costing businesses time and money; shifting around at your desk to get more comfortable is a big time-waster. Fidgeting wastes 39.2 minutes per day per employee, which equals 18.1 days a year.
This May, Fellowes is launching a campaign to make employees and employers aware of the costs of an uncomfortable workplace, as well as helping them find solutions through proactive ergonomic training, workstation assessments and ergonomic product recommendations. Visit the website for more information and helpful ergonomics tips http://www.ergo.fellowes.com/en/index
Fellowes has designed a workstation assessment to help employees discover what changes they can make to their working environment to improve it: http://www.ergo.fellowes.com/en/workstation-assessment, even though regular workstation assessments are actually obligatory (a fact that 78% of British businesses ignore). Fellowes' aim in highlighting this sort of information is to help companies create a more healthy working environment as there is currently a worrying lack of awareness around this topic. Fellowes want to make it easier for employers and employees to understand ergonomics at work and make it simpler to improve their workplace.
###