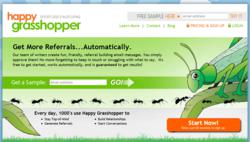 Stay in touch with your sphere by sending timely, interesting messages they'll actually read. The best part- you don't even have to write them.
- Realtor Magazine
Tampa, FL (PRWEB) May 26, 2011
Every salesperson has the same problem. They meet people who need their product or service but are just not ready to buy. Happy Grasshopper provides an easy way to stay top of mind by sending timely, interesting messages they'll actually read. And the best part is, you don't even have to write them.
Happy Grasshopper is an email marketing service that helps build relationships through fun, short e-mail messages created by professional writers. You upload the names and e-mail addresses of your networking contacts, past clients, and prospects. Then Happy Grasshopper's team creates simple, friendly messages for you to edit and approve for e-mail delivery.
"Most people don't know how to get excellent results with email" says Dan Stewart, Co-founder and CEO of Happy Grasshopper. "It can be confusing and that leads to inaction." By writing the messages and sending them on a consistent schedule, Happy Grasshopper is eliminating the primary pain of email marketing.
Happy Grasshopper also creates a custom e-signature that encourages your contacts to get in touch with you. Accounts are free for up to 50 contacts; upgrade plans start at $9 per month. Happy Grasshopper; Safety Harbor, Fla.; 727-232-9117; http://www.happygrasshopper.com
About Happy GrasshopperTM
Founded in 2010 by a team of Inc. 500|5000 award-winning entrepreneurs, Happy GrasshopperTM helps salespeople get more referrals. To join Happy GrasshopperTM, visit http://www.happygrasshopper.com.
###