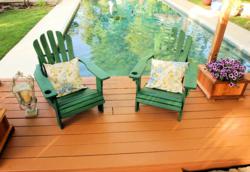 Upper Saddle River, NJ (PRWEB) May 09, 2011
If you've finally faced the fact that your outdoor spaces are not ready for Memorial Day, and the unofficial start of summer, Thompson's® Water Seal® is on deck – and on Facebook – to help. Beginning May 1, Thompson's Water Seal is offering a full month of deckspertise, and the chance to win free product, to get your deck in shape for the season ahead. All month long, visit http://www.facebook.com/thompsonswaterseal and find:

daily tips from the Thompson's Water Seal spokesperson and HGTV/diy Network star Jeff Wilson on deck building, repair and make-overs
the "deckspert" speaks on Saturday, May 14, when Jeff will be on-line to answer your questions directly; from 11 a.m.-1 p.m. EST, pose your pressure-treated pine problems, ask about waterproofer application, get clued-in about cleaning the deck, and more
enter to win one of five deck care kits valued at $120; the Countdown To Summer Contest lets you submit a photo of your deck (no more than 15 MB) and provide a short written description, in 50 words or less, explaining why your deck is your favorite place to spend the summer. The contest is open May 1-May 31. Winners will receive their choice of Thompson's Water Seal cleaners, including the popular Thompson's® Water Seal® Oxy Foaming Action Exterior Multi-Surface Cleaner and the newer Thompson's® Water Seal® concentrated wood cleaners, as well as their choice of Thompson's® Water Seal® waterproofers or colorful exterior stains.
more than a dozen videos with dramatic deck makeovers, creative project ideas, like a recycling center built from recycled materials, and footage from amazing places like Niagara Falls, Yellowstone National Park and Grand Canyon National Park, which are part of the Thompson's Water Seal VIP (Very Important Places) program
Just A Few of Jeff's Tips
Here are just a few of the tips that Jeff Wilson will be sharing daily throughout May at http://www.facebook.com/thompsonswaterseal:
Dream Big: What's your ideal outdoor space? Use books, magazines, TV shows, and on-line content for inspiration. Even if you don't have the budget now for everything you want, establishing a long-term master plan ensures you won't be tearing something out later to make way for your dream deck.
Color Your World: Do a little research too on color options for your deck. Clear coatings give the most natural wood look, tinted waterproofers and stains add color to the wood. If you don't' know where to start in choosing a color, look at the most dominant, unchanging color in the environment – probably your home's exterior – and choose a complimentary shade.
No Pressure: Pressure washers can come on too strong and actually gouge your wood. Use a deck cleaner first to loosen up dirt, mildew and old coatings. Then you can use less pressure to rinse everything away.
Protect Your Investment: Apply a waterproofing coating as soon as possible, based on the label directions of the product you are using. There's a misconception that new wood needs to weather before applying a waterproofing coating, but a new deck can start to show signs of damage in just a few months if not protected.
There's even more great information, and the chance to enter the $10,000 "Deck of Your Dreams" sweepstakes, at the Thompson's® Water Seal® Web site -- http://www.thompsonswaterseal.com.
# # #