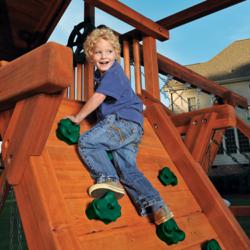 Raliegh, NC (PRWEB) May 05, 2011
President Obama has declared May National Physical Fitness and Sports Month to shine a spotlight on the critical role physical activity plays in our nation's health and wellness.
The president's message is clear: Getting children moving outside can have an immeasurable impact on their conduct and health. Parents have a key responsibility in leading by example. When children see important people in their lives making healthful decisions and encouraging them to do the same, they are more likely to emulate those actions.
Woodplay Playsets is doing its part to get families outside and moving with a 2011 lineup that offers the most flexible swing set options for any family's needs, budget and yard size. Woodplay has made it even easier to choose from the nearly endless combinations of wooden swing sets, slides, playhouses and climbing surfaces by streamlining its choices into two simple starting points – the Outback (angled base) and the Playhouse (square base). Every perfect swing set begins at one of these two basic concepts and grows from there as the parent and child choose combinations and options.
The Outback is a Woodplay original angled design that is now a swing set industry standard. It offers more room "down under" the swing set deck for play, enough room to add a tire swing. Angled-base swing sets give wide access to the swing set deck, and are perfect for playground equipment add-ons like a rock wall or chain ladder.
The Playhouse, or square-base wooden swing set, is the classic playhouse look in a playset. It offers a cozy, compact footprint, plus extras like a built-in picnic table and sandbox. Families can add a bonus room, a sun room, or favorite swing set options like a rock wall or monkey climber.
Quality swing sets offer kids hours each day of valuable unstructured play time. Among the most important objectives of Woodplay's new line is to inspire unstructured play. New Woodplay playsets let parents select different deck heights, regular or larger decks, and add monkey climbers, sky boxes, or a host of other accessories. Each component is designed to capture a child's imagination for hours on end, leading to active and unstructured play time.
Plus, swing sets offer one of the best ways to fight off the epidemic of childhood obesity that is capturing unprecedented national attention. President Obama pointed to a childhood obesity rate in America that has tripled in 30 years as a primary reason for this national priority. Swing sets, slides and climbing surfaces ensure children get a workout with every play session.
Woodplay offers a fun and easy starting point for families to answer the president's call to get fit. Since 1975, Woodplay has been committed to building the finest outdoor swing sets and playsets that help children grow and learn.
For more information on the President's Council on Fitness, Sports, and Nutrition, and for information on how exercise affects kids' health and well-being, see Wooden Swing Sets…The Backyard Blog at http://www.swingsets.com/backyard-blog/.
###