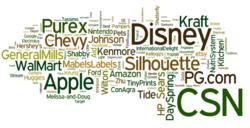 Brands are saturating the top 10% of bloggers based on readership while possibly overlooking smaller, niche blogs that are quite influential and carry loyal readerships.
New York (PRWEB) May 05, 2011
According to a new research study released today at the Digital Impact Conference in New York City, 93% of women bloggers surveyed are eager to partner with brands although the majority, almost 60%, have never been approached by a brand or agency to work on a campaign.
The survey was fielded across 50,000 women bloggers in the BlogFrog network during the month of April and was analyzed by the Social Studies Group, an independent social media research company. Almost 2,000 women and mom bloggers responded, offering valuable insights for brands that help them understand the most effective ways to partner with women bloggers to generate brand affinity, loyalty and drive purchase behavior.
Key Findings Include:
➢ Compensation matters. 90% are interested in working with brands, so long as there is some form of compensation.
➢ Social good matters. Campaigns that include an element of social good increase trust levels for 56% of bloggers surveyed.
➢ 70% of bloggers trust a brand more when that brand is promoted or recommended by someone they know from a blog or social media.
➢ Almost all women bloggers have positive opinions on brand sponsored social media and blog campaigns.
➢ Almost 60% of women bloggers indicate they want long-term, deeper relationships with a few special brands.
➢ Of the brand pitches bloggers receive, most are rejected by the majority of bloggers.
➢ As consumers, women bloggers are highly influenced by other blogs. 93% have purchased a product based on brand information found on a blog or online community.
➢ Bloggers who spend six or more hours a week engaging with other blog communities show a correlated increase in revenue.
➢ Brands like Purex, Disney, Kraft, Silhouette, Proctor & Gamble, and CSN were given high marks for their blogger relations.
"Bloggers represent online influence and women represent a powerful consumer demographic. Put them together and you have the Holy Grail for brands trying to reach women and moms online," said Holly Hamann, Co-Founder and VP of BlogFrog, Inc. "The research also reveals that brand advertisers and marketers need to be active listeners and participants to authentically engage with influential women online."
Out of 1,967 respondents who completed the survey, 58% have never been approached by a brand or an agency to work on a campaign. Of the 42% of women approached by brands, 29% were only pitched a few times (about 1-10 pitches) per year to work on a brand, while almost 10% have been pitched more than 100 times a year. According to Wendy Scherer, Partner at The Social Studies Group, "These statistics point to a fundamental issue within the advertising and public relations industry. Brands are saturating the top 10% of bloggers based on readership while possibly overlooking smaller, niche blogs that are quite influential and carry loyal readerships."
Of the number of brand or agency pitches that bloggers do receive, only about half the bloggers accept more than 20% of the pitches they get. However almost all bloggers surveyed, 95%, have favorable views on brand-sponsored social media and blog campaigns as long as they are authentic, high quality, help generate revenue for the blogger, and are fun. "These are conflicting data points: although women have favorable views of brand-sponsored campaigns, few pitched campaigns are actually accepted. This suggests that many brand campaigns lack elements desired by bloggers," said Scherer.
According to the survey, women bloggers have been primarily hired to write product reviews on their blog, join an affiliate program or place direct advertising on their blog and the majority have been for desirable categories such as health/beauty and food/beverage. However, women indicated that the most desirable brand category is technology and electronics. Pharmaceutical and automotive categories fell to the bottom of the list of brands that women would like to work with.
67% of respondents think revenue generation is somewhat or very important and the most common non-monetary forms of compensation from brand engagements include free or discounted products or services, traffic to the blogger's blog, press, and notoriety. Only 15% of bloggers indicated that money has been exchanged for a brand partnership. For the 21% earning $1,000 or more a year, almost all are spending at least 30 hours a week working on their blogs.
While almost all of the bloggers surveyed (88%) say that they have not had a negative experience working on a brand campaign, 12% of unhappy bloggers cited lack of campaign organization, inadequate compensation, and more work than expected as the top reasons for the negative experiences.
BlogFrog works with major consumer brands such as International Delight, Kenmore, Dove and Hallmark to create conversational marketing campaigns that resonate with women peers online. From this experience and looking at the findings from today's report, BlogFrog is recommending the following best practices for brands and PR agencies to work with mom bloggers:
1) Form deeper relationships by reading blog posts, commenting on blogs and engaging in the conversation happening online.
2) Acknowledge the value of a blogger's influence, time, and commitment with appropriate compensation
3) Create smart campaigns that are aligned with a niche blogging category, like photography, frugal living, or kids' fashion.
4) Make your brand and its representatives fully accessible online through the use of social media, branded communities, conversational marketing, and corporate blogs.
To access the complete research report, please visit: http://theblogfrog.com/learn/get2011researchstudy.aspx.
Look for a future research that flips the table and asks what brands want from bloggers and how bloggers can be better business partners to brand advertisers and public relations professionals.
About BlogFrog
BlogFrog is an instant community platform used by bloggers to enable readers to interact with each other, engage in like-minded discussions, and share rich media content like photos and videos. BlogFrog powers thousands of niche communities and has become the largest network of women and mom blogs on the web with over 75,000 members reaching over 6 million women each month. In addition to publisher community tools, BlogFrog has a suite of engagement solutions for consumer brands that enable relationship and trust-building with women and mom consumers. BlogFrog is a venture backed, private company headquartered in beautiful Boulder, Colo. For more information, please visit the website: http://theblogfrog.com or follow along via Twitter @theblogfrog.
About The Social Studies Group
The Social Studies Group, LLC is a social media research company that sprang from the well-established Scherer Cybrarian, LLC, a traditional research company that has been carrying out primary and secondary research, as well as providing strategic marketing and business consulting services, for over a decade-and-half. Specialties include providing deep analyses of social media conversations to help companies better understand their customers, competitors, markets and industries for marketing and PR, product development, discovery of new markets, business strategy, and more. http://www.socialstudiesgroup.com
###