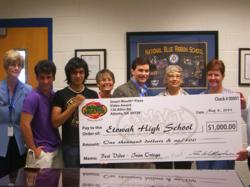 We set out to give students a voice in communicating a positive message
Woodstock, Georgia (PRWEB) May 05, 2011
Smart Mouth Pizza today honored Ivan Ortega, a senior at Etowah High School in Woodstock, Georgia as the winner of the company's 2011 Student Video Contest.
Ortega, who is a graduating student, produced and submitted a video entitled Lottery Winner, that depicts the excitement of hitting the lottery jackpot when the prize is the company's healthier lunch alternative pizza product.
"You have made a name for yourself, and I can't wait to see what the future holds for you," said Smart Mouth company founder Tom Willingham in presenting the student with his award in the presence of key faculty and school nutrition administrators today.
Included with the honor, is a $1000 donation made to the school by Smart Mouth Pizza that is earmarked for a student activity to be chosen by the student producer of the winning video.
"We set out to give students a voice in communicating a positive message and to gain some valuable experience, "added Willingham, "And we were blown away by the level of creativity in so many of the videos created."
"Based on the tremendous volume of this product students buy for lunch, we knew our students really loved the Smart Mouth Pizza product," said Nila Maxwell, Cherokee County, School Nutrition Coordinator, "But to see so many great videos in this contest submitted by students in our schools is a big thrill."
The winning video was selected from 18 videos submitted by students, including several from his classmates at Etowah High and nearby rival Woodstock High.
The Smart Mouth Pizza program offers a fresh-made, healthier school lunch option to school lunch programs throughout the South—from Texas to Florida, Georgia and South Carolina. The company is also set to honor one student with the distinction of being the "Best Smart Mouth in the South" and the recipient of a college scholarship based on their performance as a student brand ambassador during the 2010-2011 school year.
The School Smart Mouth scholarship winner will be announced the week of May 10, 2011 and will be posted on the company's facebook page for students facebook.com/schoolsmartmouth and on its corporate web site http://www.smartmouthfoods.com
###