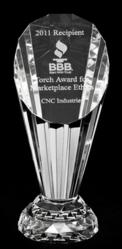 CNC Industires is proud to be the 2011 winner of the BBB Torch award for business ethics
Fort Wayne, IN (PRWEB) May 07, 2011
Each year the Better Business Bureau (BBB) of Northern Indiana selects companies that conduct their business practices in an ethical manner. This award represents a commitment to ethics , integrity and trust in the marketplace. CNC Industries is pleased to announce that they are the 2011 winner of the BBB Torch award for Business Place Ethics for the category of Small Businesses.
CNC Industries has maintained an A+ rating with the BBB since their founding in 1996, and has always emphasized ethics and integrity in all business dealings. CNC Industries was nominated by Dennis Sutton of Burt, Blee Dixon, Sutton and Bloom for the award. The BBB used a panel of local business leaders who selected CNC Industries as the best representation of business ethics in Northern Indiana.
Gerry Pettit of Stuart Integrated Systems had nothing but good things to say about CNC Industries at the award show, "We really appreciate the value CNC Industries contributes to Stuart Manufacturing, Inc. and the integrity you bring to the relationship."
CNC Industries has long practiced a three pronged evaluation for ethics. All business decisions must be fair to the customer, fair to its employees and finally fair to CNC Industries. Using this metric they are able to quickly judge any situation and always decide on the best way to proceed.
CNC Industries is a Fort Wayne, Indiana based Machine Shop specializing in precision CNC machining, fabrication and assembly of application-critical and custom machined parts for the Aerospace, Defense, Medical, Industrial and Transportation markets. The company presently employs approximately 45 people.
# # #