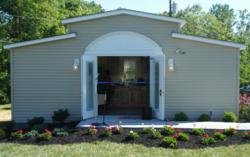 With changing family structure and lifestyles over the past century, research demonstrates that end-of-life care is emerging as the most pertinent concern for the baby boomer generation.
Salem, VA (PRWEB) May 06, 2011
The MedCottage – the portable, modular medical home that enables families to take care of loved ones on their property as an alternative to long-term care facilities – made its commercial debut today in the first of five U.S. markets in a controlled introduction.
The 12-by-24-foot MedCottage (http://www.medcottage.com), loaded with technology and amenities for the health, comfort and safety of the elderly or those recovering from illness or injury, was developed as an alternative model for healthcare as 78 million baby boomers prepare for their senior years – potentially straining nursing homes and government-funded healthcare programs.
MedCottages are available through a growing network of distributors with plans to grow nationwide over the next year.
In just a year, N2Care, the company behind the MedCottage, received legislative approval in Virginia for property owners to house the structure, created a prototype, began manufacturing and developed a national distribution network.
"Since introducing the first prototype 10 months ago, thousands of people around the country have contacted us to tell us we're on the right track to provide a viable and cost-effective option to age in place," says the Rev. Kenneth Dupin, founder and CEO of N2Care. "Through extensive feedback and real-life testing we have made numerous changes to take the MedCottage from a vision to marketplace reality."
Among the changes from the first prototype:

An additional 10 square feet, for a total of 299.
Kitchen area moved from side to center of MedCottage to provide more family space.
Wider front door to accommodate any wheelchair.
Bathroom doors that swing.
Flooring to lessen the impact of a fall.
The final layout was designed by students at the College of Architecture and Urban Studies at Virginia Tech as part of a senior design project.
The MedCottage can be purchased or leased and temporarily placed on the care-giving family's property with features that most hospital and nursing home rooms are denied. Like an RV, it connects to a single-family house's electrical and water supplies.
The first MedCottage distributor is VAS Aging Solutions of Salem, Va.
"When we first saw the prototype, we were immediately struck by how the MedCottage can improve the lives of families seeking a better way to care for their loved ones," said Vickie Robinson, president of VAS. "We were so confident in the product that we decided to become the nation's first distributor."
The MedCottage combines the comforts of home with medical technology. Each contains a family communication center that provides telemetry, environmental control and dynamic interaction to off-site caregivers through smart and robotic technology throughout the charming, comfortable modular home at costs less than a hospital or nursing home.
The Virginia-made MedCottage is equipped with the latest technology to monitor vital signs, filter the air for contaminants and communicate with the outside world via Internet and smart phone applications. Sensors alert caregivers to an occupant's fall and provide information to support the overall care of a resident through remote control and monitoring in a dashboard that serves as a family communication portal.
"With changing family structure and lifestyles over the past century, research demonstrates that end-of-life care is emerging as the most pertinent concern for the baby boomer generation," Dupin says. "Boomers have a particular fear of being isolated from family and institutionalized in the final stage of life. Consequently, there is a need in the market for an innovative alternative to care for the aging population unlike any current options for end-of-life care."
The idea, Dupin adds, came to him after years of leading humanitarian missions to developing countries, and it was encouraged by a growing sense of his own mortality.
The MedCottage features three rooms:
A kitchen with a small refrigerator, microwave, washer-dryer combination and medication dispenser.
Bedroom with hospital-caliber bed.
Bathroom with ample room to maneuver.
Some of the MedCottage's other optional features include:
A video system that monitors the floor at ankle level, so the patient would have privacy but a caregiver would know if there were a problem.
Pressurized ventilation that can keep airborne pathogens in or for the purpose of sterilization.
A lift, attached to a built-in track in the ceiling, that can move a patient from bed to bathroom so the caregiver could avoid heavy lifting.
Lighting illuminating the floors – the most common cause of falls.
About N2Care
N2Care, based in Salem, Va., is changing the way people think about senior healthcare. With an unyielding focus on independence, dignity and care, our products provide aging family members with new options to live independently. The N2Care mission inspires our team day in and day out: to design, create and deliver products that will enable families the opportunity to directly participate in the extended care of loved ones. To learn more, please visit http://www.medcottage.com.
###