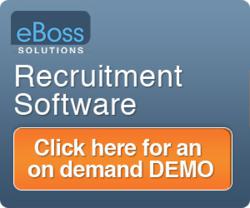 a company that adds value and people enjoy doing business with
(PRWEB) May 10, 2011
Leading online recruitment software and recruitment database management provider eBoss Solutions today announced the launch of an easy to access, on demand demo video on their website http://www.eboss.co.uk.
Intuitive and time saving, the eBoss recruitment software database system is already renowned for being value for money and simple to navigate. There are no annoying pop up windows, no minimum contracts and each new upgrade is provided completely free of charge. eBoss gives clients a full audit trail too and can be set up to manage the workflow in the way that suits the customer best.
And now, finding out about eBoss has become even easier. As eBoss Managing Director David Lyons told us, "we have been open, transparent and accessible from day one – a company that adds value and people enjoy doing business with. By launching this new on demand demo we're simply removing the barriers for potential clients who are looking to get up and running with the very best recruitment software and in the quickest time frame." David went onto explain that visitors to the eBoss website will no longer have to give an email address or other contact details in order to arrange for a live demo. Instead, they can simply watch the demo whenever they want and, if they so choose, contact eBoss to discuss any questions they may have prior to buying the system. The system will then be deployed online and the new customer can log in and be up and running within 24 Hours.
"I'm confident we have one of the best product and service in the market," said David. "We have shaped eBoss based on feedback from people who work in the recruitment industry and use our systems on a daily basis. Streamlining the way people get to see and hear all about its features and benefits is just our way of demonstrating our commitment to customer service and aspirations for the future."
Tim Bond of recruitment consultants Upfront & Personnel is a firm advocate of the eBoss system. "We're so happy to have eBoss on board and are already seeing the benefits of using such a comprehensive and well thought out software package. One of the key benefits to us is the ability to access the system from anywhere, giving us the flexibility to work out of the office and access data and contacts from wherever we may be."
Clearly then, eBoss are indeed a company people enjoy doing business with. You can see the video demo for yourself by visiting http://www.eboss.co.uk
###