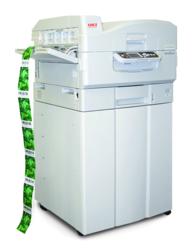 OKI expands the usefulness of the pro510DW and proColor™ Series with UV coating that increases the longevity of printed materials and offers tremendous value – and A&V is all about adding value to our customers."
Bryan, Ohio (PRWEB) May 09, 2011
Anderson & Vreeland demonstrated the expanded capabilities of OKI Data Americas' proColor™ Series with a UV coating application, ideal for the flexo industry, at the Flexographic Technical Association's INFO*FLEX 2011 Exhibition, May 2-3 in Indianapolis, IN. The combination of the pro510DW Digital Color Web's ability to produce fast, customized continuous web printing with Kompac Technologies' EZ Koat UV coating applicator further expands the printer's usefulness within the flexographic industry.
The OKI pro510DW combines affordability and functionality, making it an ideal solution for short-run web printing. By using the pro510DW in conjunction with the additional UV coating provided through the use of EZ Koat Web 15 provides rub, fade, water and scratch-resistance to the printed materials, which is advantageous for multiple applications.
"OKI continues to expand the usefulness of the pro510DW and proColor™ Series with UV coating," said Darin Lyon, Vice President and General Manager of Anderson & Vreeland. "The added protection offered by UV coating increases the longevity of printed materials and offers tremendous value – and A&V is all about adding value to our customers."
Anderson & Vreeland, Inc. recently began distributing the OKI proColor™ Series of printers within the United States because of its strategic fit within the flexographic industry. "The addition of OKI Printing Solutions HD technology continues with our tradition of bringing innovation and best-in-class solutions to our customers to improve their ability to grow new business through horizontal and vertical channels," added Lyon.
All OKI products are built on parent company OKI Data Corporation's history of leadership and innovation in color printing, such as digital LED technology and Single Pass Color™. This technology allows OKI Data Americas to manufacture products that require fewer moving parts for increased reliability.
Anderson & Vreeland sells the OKI proColor™ Series and provides technical support using a nationwide staff of technical sales representatives. For more information visit AndersonVreeland.com or call toll-free 866.282.7697.
About Anderson & Vreeland, Inc.
Founded in 1961, Anderson & Vreeland has earned an international reputation as a leading supplier of flexo platemaking equipment and materials to the graphic arts industry. The company offers a "systems approach" to plate processing, with state-of-the-art equipment, materials and software specifically designed for flexo. A&V supports these products with 50 years of experience and a nationwide staff of technical sales representatives thoroughly knowledgeable about the fine points of flexo. The company's substantial flexo experience and technical support sets it apart from other prepress suppliers. This experience and support results in smoother and easier integration of technical advancements affecting flexo prepress. Further information is available on the web at AndersonVreeland.com.
# # #