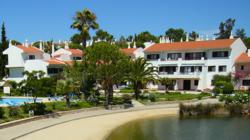 (PRWEB UK) 10 May 2011
Ria Formosa Estuary and Natural Park, a popular destination for guests staying in Quinta do Lago, was recently elected as one of the Seven Natural Wonders of Portugal by New7Wonders. The Ria Formosa is actually a system of barrier islands and six separate inlets, and over 170 square kilometres are designated as a protected natural park.
The protected sanctuary was in the running with 323 other locations around the country, and is located right next to Quinta do Lago. Other beautiful wonders that made it into the top seven are the Laurel Forest, the Volcanic Landscape of Pico Island, the Grutas de Mira de Aire, and the Seven Cities Lagoon Nature Park.
The top locations were announced at an official awards ceremony which took place in Portas do Mar. The wonders were selected by vote and 537,300 people across Portugal voted during the six month voting period.
The overall winner, considered Portugal's number one natural wonder, is the Azores Archipelago. This is a collection of nine volcanic islands located about 1,500 km west of Lisbon and is actually the peaks of some of the tallest mountains on the planet which have their bases deep at the bottom of the ocean.
Natural wonder Ria Formosa is a popular stop on the migration route of many endangered bird species and is one of the best places in Europe for bird watching. Many birdwatchers visit Quinta do Lago each year to observe the many rare and endangered birds that call Ria Formosa home. In total, Ria Formosa is visited by approximately 30 thousand different bird species.
Many guests staying in Quinto do Lago villas choose the resort because of its proximity to the park, as the Ria Formosa is literally right outside its door. Quinta do Lago has created two official Nature Trails, which allow visitors to follow an interpretive path and observe several species within the park.
Being situated right next to one of Portugal's Seven Wonders, Quinta do Lago has the responsibility to take care of this important natural asset. Property developers hold nature conservation in high regard, and follow a strict low density building policy of only eight percent of the total state.
The design of the properties in the region shows how much the developers worked to integrate the architecture into the surroundings, and the resort has taken on an active position to educating the community about the environmental importance of the area through events, guests, and activities.
Although the Ria Formosa made the official list of Portugal's Seven Wonders, there are many other wonders to discover in the beautiful surroundings of this Algarve resort.
Information For Editors
Select Resorts
Telephone: +44 (0)1202 765011
Established in 1982, Select Resorts is a leading villa holiday operator based in Dorset (UK). For over 25 years we have prided ourselves on offering our guests handpicked, quality accommodation, in some of the most premium resort destinations all over the world.
# # #