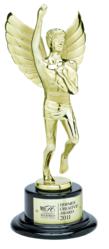 This is the second consecutive year in which Summit Medcal Group's creative work has received high honors in this competition.
Berkeley Heights, N.J. (PRWEB) May 07, 2011
Summit Medical Group today announced it is the winner of two Gold awards in the 2011 international Hermes Creative Awards competition. This is the second consecutive year in which the Group's creative work has been honored in this competition.
One Gold award went to the Group's web site home page, http://www.summitmedicalgroup.com, produced with Syncresis LLC, Chris G. Fox, Ph.D., Managing Partner. The website's interactive redesign includes Nutrition, Fitness, and Featured Practitioner columns.
A second Gold award went to the Group's 2010 Annual Report, produced with Off-Kilter Designs, Kristen Kiech, Owner. The full-color report, in print and online, details the Summit Medical Group's healthcare innovations and community contributions.
Administered by the Association of Marketing and Communication Professionals, http://www.amcpros.com, the Hermes Creative Awards is an international competition for creative professionals involved in the concept, writing and design of traditional materials and programs, and emerging technologies. Entries come from corporate marketing and communication departments, advertising agencies, PR firms, design shops, production companies, web based innovators and freelancers. There were over 4,400 entries from throughout the United States, Canada and several other countries in the 2011 competition.
AMCP judges are industry professionals who look for companies and individuals whose talent exceeds a high standard of excellence and whose work serves as a benchmark for the industry. Winners were selected from 151 categories in seven forms of media and communication efforts- advertising, publications, marketing/branding, integrated marketing, public relations/communications, electronic media and pro bono. About 15% of the entries won the Platinum Award - the organization's top honor. Nineteen percent won the Gold Award. A list of Platinum and Gold Winners can be found on the Hermes Creative Awards website at http://www.hermesawards.com.
ABOUT SUMMIT MEDICAL GROUP
Providing exceptional primary and specialty care since 1929, Summit Medical Group has pioneered information technology advances with its electronic health records and electronic prescribing program. With more than 225 highly qualified healthcare providers, it serves as a unique model of healthcare in New Jersey. Through its nationally recognized award-winning customer service program, Summit Medical Group treats more than 55,000 patients per month at its Berkeley Heights campus and area satellites in Bayonne, Berkeley Heights, Millburn, Shorts Hills, Summit, Warren, and Westfield. NJBiz magazine named Summit Medical Group one of the Fifty Fastest Growing Companies in New Jersey. Summit Medical Group is a member of the American Medical Group Association For more information, visit http://www.summitmedicalgroup.com.
# # #