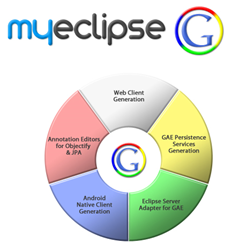 MyEclipse G allows business users and developers alike to design, develop and deploy to the Google Cloud with minimal effort and technical hindrance.
San Francisco, CA (PRWEB) May 10, 2011
From Google I/O, Genuitec and Skyway Software are pleased to announce the newest integrated development environment (IDE) on the market; "MyEclipse G." The "G" showcases the focus on Google development technologies for the cloud.
As with all MyEclipse product lines, MyEclipse G is a robust solution that focuses on an easy user experience while creating multiple frameworks for Google App Engine. The simple-to-use cloud studio-type functionality automates project architecture and implementation, all with very little time investment from the developer or business user.
"Google cloud offerings enable companies to replace their high technology fixed-asset investments with low, variable and predictable costs while outsourcing their IT infrastructure to take advantage of a growing network of proven commercial SaaS providers. We're excited to deliver a product tailored to Google's growing technology stack, and to support business analysts and developers who utilize Google tools," said Maher Masri, CEO of Genuitec
MyEclipse G gives its users a high-productivity environment to accomplish multiple application development tasks at once; such as simultaneously creating cloud-ready applications for Google Web Toolkit (GWT), Android, Sitebricks, Google Guice, JSF 2.0, Adobe Flex, and more.
The easy-to-use UI generates complete "create, read, update and delete" (CRUD) applications for Google App Engine (GAE) and GAE for Business. MyEclipse G auto-generates all layers from the UI to services and data access all the while integrated with Google Guice. Developers can chose whether their application runs on GAE for Business with JPA and Hibernate or if they will run on regular GAE using Objectify.
MyEclipse G provides Android native client generation that new users will find ready-to-use and easy to understand. Business users can create standalone or networked Android apps that are ready for cloud deployment in just a few minutes. Building networked apps included data synchronization for online and offline use, and anyone can generate code from existing domain models, including DB reverse engineering.
"The ability to rapidly develop functioning, cloud-ready applications is no longer the realm of just high-end developers," said Jack Kennedy, vice president of product development for Skyway Software. "MyEclipse G allows business users and developers alike to design, develop and deploy to the Google Cloud with minimal effort and technical hindrance."
MyEclipse G supports Java EE 6 and HTML5, and is built on the latest Eclipse release, Helios.
More information on MyEclipse G is available at http://myeclipseg.com, including details about the MyEclipse G Early Access Program.
About MyEclipse
Developers worldwide choose MyEclipse because it is the most affordable and comprehensive J2EE IDE and Web development tool suite for the Eclipse open-source platform. MyEclipse is the Eclipse plugin-based solution for all your UML, Ajax, Web, Web Services, J2EE, JSP, XML, Struts, JSF, Java Persistence, EJB, extended database support and application server integration needs.
About Skyway Software
Skyway Software provides IT organizations with technology that simplifies their software delivery process - often times reducing Java EE application development and deployment schedules by 30 percent or more. Some of the world's largest enterprises rely on Skyway's SpringSource-certified code generation capabilities to facilitate development and deployment of Spring-based solutions. Founded in 2001, Skyway Software is headquartered in Tampa. For more information, call +1 (813) 288-9355 or visit http://www.skywaysoftware.com.
About Genuitec
Genuitec, LLC, is an Eclipse-based company offering innovative Java and J2EE development tools. Genuitec offers training and expert consulting and development services for the Eclipse SDK and Rich Client Platforms. An original sponsor of Eclipse Plug-in Central, Genuitec joined the Eclipse Foundation early in 2003 and is currently supporting Eclipse as a strategic member on the Foundation's board of directors. Genuitec LLC was founded in 1997 and is headquartered in Flower Mound, Texas.
Genuitec, Pulse, PoweredByPulse, MobiOne and MyEclipse are trademarks of Genuitec, LLC. All other brand or product names may be trademarks or registered trademarks of their respective companies and should be treated as such.
*Please follow Genuitec's latest news by joining "MyEclipse" on Facebook and on Twitter @myeclipseide and @myeclipseg.
# # #