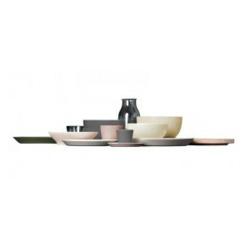 While striving for expressive purity, the Tonale range honors today's requirements for durability and versatility. Sir David Chipperfield
Alessi's Tonale Dinnerware by Sir David Chipperfield at Unicahome.com (PRWEB) May 10, 2011
The Italian design firm of Alessi recently introduced new tableware designs for the Tonale service by Sir David Chipperfield. Based on Asian ceramic design, the service has won numerous awards, including the Elle Decoration International Design Award and the Homes and Gardens Classic Design Award.
The focus of the Tonale Dinnerware is on color and form. Like its title, the colors of the objects are tonal: light grey, light earth, dark grey, red earth, white earth, white yellow and pale yellow. Influenced by the color palette of Italian artist Giorgio Morandi, a full placement of Tonale presents a spectrum of form and color equally at home in modern or traditional settings.
According to the designer, Tonale is "A seemingly random collection of objects, the table service comprises a number of items including a board, a carafe, plates, bowls, beakers, and cups. The project was inspired by vernacular ceramics from Korea, Japan, and China, and conceived as an exercise in refining functional household objects. The objects are produced in a variety of materials including enameled steel, glass, earthenware, and wood. While striving for expressive purity, the range honors today's requirements for durability and versatility."
The Tonale Dinnerware project began when Sir David Chipperfield was looking for service for his home but was unable to find anything suitable. "The wonderful thing about this dinnerware is that not only is it beautiful but it has the personal touch of the designer in every piece. Tonale was made for his (Sir David Chipperfield) personal use as well," states Jens Menke, Alessi National Sales Manager.
Like his architecture, Sir David has also placed emphasis on function with the Tonale dinnerware service. Units are interchangeable, and plates have a raised rim. All stoneware pieces are oven-safe, allowing an additional function that is forgotten in most dinnerware. Recent introductions to the line include storage jars and an oven-to-table serving dish.
A complement to the Tonale dinnerware is the Santiago cutlery service, also by Alessi.
Made of 18/10 stainless steel, the service is ergonomically designed and features a notable knife design where the blade appears to be an extended line from the handle. It is also available in an elegant black PVD-handled version.
Unicahome is currently featuring these items and other Alessi dinnerware, cookware, glassware and cutlery at 20% off with free shipping through the end of May, 2011. All products at
Unicahome are covered by Manufacturer's Warranty and the Unicahome E-Z Return Policy.
About The Designer: Sir David Chipperfield is a modernist architect based in London with offices in Berlin, Milan, and Shanghai. His architecture and product design never vary in quality. Always with an emphasis on function, the end design is also heavily influenced by context and client needs. The net result is beauty. The recipient of numerous awards, Sir David is currently being lauded for his firm's reconstruction of the Neues Museum in Berlin, being awarded the 2011 European Union Prize for Contemporary Architecture.
About Alessi: Alessi is a housewares company based in Crusinallo, Italy. Founded in 1921, the firm has placed focus on designer-based household articles, and is most notable for their iconic Kettle with the Bird Shaped Whistle by American Architect Michael Graves and the Juicy Salif juicer designed by Philippe Starck. Another notable collaboration is with the National Palace Museum in Taiwan with product designed by Stefano Giovannoni with Rumiko Takeda.
About Unicahome: Founded in 1998 by Hugh and Bonnie Fogel, Unicahome.com is a complete lifestyle store for home, office and contract use featuring Bridal Registry, Furniture, Lighting, Accessories, Barware, Food and Great Gifts from noted designers and top brands sourced worldwide. Their 18,000 square foot retail location is located in Las Vegas, Nevada. An Alessi Shop-in-Shop Retailer, Unicahome features the entire collection of Alessi production, as well as numerous designs from Sir David Chipperfield and firm. The unicahome.com website features over 65,000 products for home and contract use.
###