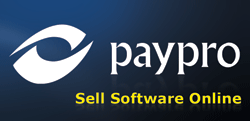 The fact that EasyCommerce provides a wealth of advanced and innovative features was also a factor in choosing PayPro
Toronto, Canada (PRWEB) May 05, 2011
PayPro Global, an international eCommerce solution provider offering innovative tools and services to sell software online, today announced that Codex Systems, a software development startup, has selected PayPro EasyCommerce for managing online sales, as well as for product licensing and activation.
"We considered a variety of eCommerce and licensing solutions," said Adam Kozyniak, Co-founder and CEO of Codex Systems, "but PayPro's simple interface and helpful support staff meant we could get up and running very quickly."
PayPro has long prided itself on making eCommerce simple, a critical factor for startups like Codex Systems, who cannot afford to divert significant resources away from product development just to be able to sell software online. But PayPro also has a reputation for producing one of the most powerful eCommerce platforms available.
"The fact that EasyCommerce provides a wealth of advanced and innovative features was also a factor in choosing PayPro," continued Kozyniak. "We wanted a solution that would meet our needs today and tomorrow."
PayPro's end-to-end EasyCommerce platform helps software vendors optimize marketing and payment processing and greatly increase online revenue with a number of unique tools, including cross-sale pop-ups, delayed emails and an advanced API. Additional features are being added all the time, too, often in direct response to customer feedback.
"PayPro is dedicated to helping each and every one of our clients succeed," said Matthew Silverman, CEO of PayPro Global. "That means always being one step ahead of what they need."
"With that philosophy," added Kozyniak, "we're not going to outgrow PayPro anytime soon."
About Codex Systems
Founded in 2010, Codex Systems develops software for the efficient authoring and publishing of documents. Codex, its flagship product, enables non-technical authors to easily create and edit content in the open-standard format DITA (Darwin Information Typing Architecture) for use in sophisticated XML publishing processes.
Codex Systems is located in Toronto, Canada.
Web site: http://www.codex-systems.ca
About PayPro Global
Founded in 2006, PayPro Global, Inc. develops and hosts an eCommerce solution that allows anyone to easily sell software online. PayPro Global supports more than one hundred currencies, all major credit and debit cards, and a wide variety of payment options. The company also offers software developers state-of-the-art licensing, activation, and anti-piracy protection for their applications.
PayPro Global is headquartered in Toronto, Canada, with development centers in Ramat Gan, Israel and Lugansk, Ukraine, and regional offices in Milwaukee, USA, and London, UK.
Web site: http://www.payproglobal.com
Contact
Matthew Silverman, CEO
PayPro Global, Inc.
Suite 1117
250 The East Mall
Toronto, Ontario
M9B 6L3
Canada
Phone: +1-646-873-6857 (Canada)
###